MagnaChip Semiconductor (MX) has been in an unstable state for the past year. The stock is currently in a 52-week low-end trading zone, and I think it is a cheap valuation. I expect MagnaChip will benefit from the growth of the Internet of Things (IoT) and other applications over the years. Low valuations and growth will drive share prices up by 40% in two years, perhaps faster.
MagnaChip's Competitive Advantage
MagnaChip is a manufacturer of analog and mixed-signal semiconductor solutions. The company's products are used in communications, internet of things, consumer products, industrial products and automotive applications. I see that the company's competitive advantage has helped MagnaChip take advantage of the growth of these applications.
MagnaChip has one of the industry's most extensive and deepest analog and mixed-signal semiconductor technology platforms. The company has 3,200 patents and is awaiting its application. This amount of intellectual property provides protection for the company so that their technology is not easily copied.
The company's manufacturing and engineering expertise enables MagnaChip to quickly develop new products and integrate many functions into one product. For example, MagnaChip is one of the first companies to introduce commercial OLED display drivers for mobile phones. The advantage of OLED displays is that they are lighter, thinner, and more flexible than the layers in LEDs and LCDs. OLEDs can also be made of plastic, but LEDs and LCDs must be made of glass for support. OLED is brighter than LED.
MagnaChip has established a strong relationship with the world's leading electronics companies. These relationships allow MagnaChip to gain insight into the needs of its customers. Therefore, the company can effectively meet the needs of customers.
Another competitive advantage is that the company is very close to its largest customer. MagnaChip has a manufacturing and design center in Korea. The proximity to large customers such as Samsung (OTC:SSNLF) and LG Electronics (OTC:LGEAF) can shorten product turnaround time. This can reduce transportation costs and provide quality customer service when the product is quickly received.
MagnaChip exerts its competitive advantage by targeting high-growth markets. The company provides the new products/services they need most by using their engineering/manufacturing expertise.
The company also strives to expand its customer base and increase its business with existing customers. As MagnaChip develops its various electronic application businesses, this strategy should ensure steady growth in the future. The company's products for these applications include: display drivers, audio encoding/decoding devices [codecs], timing controllers, interface circuits, voltage regulators, switches and converters. These components are used in various electronic devices such as televisions, smart phones, PC/laptops, tablet computers, automotive displays, consumer electronics and industrial applications such as power supplies, photovoltaic converters, LED lighting and motor drives.
Cheap valuation
MagnaChip's stock price has recently fluctuated with the market's volatility. The stock's trading range is between $9 and $13. The stock is currently at the low end of the range, with a forward price-to-earnings ratio of 8.8. This is 68% lower than the forecast price-earnings ratio of the professional semiconductor industry 27.5.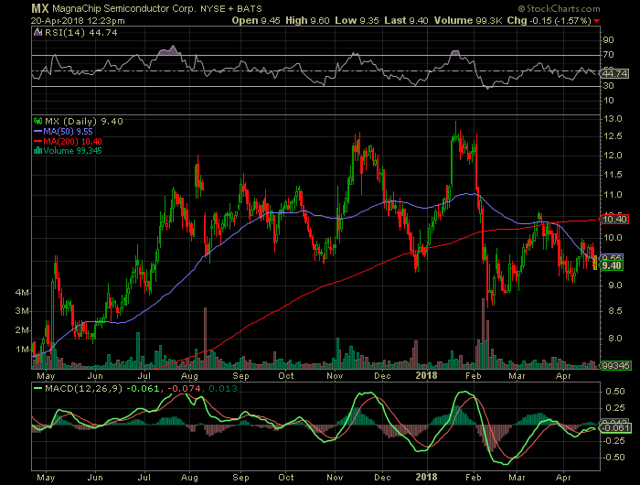 MagnaChip's valuation is too low for companies (market consensus) that expects revenue growth of 6% in 2018 and 7.5% in 2019. Analysts expect the company's profits to increase by 2.6% in 2018 and 37% in 2019. Frankly, the 2.6% growth in earnings per share in 2018 seems to be too low. However, the low growth in 2018 may be due to the expected increase in research and development costs. In 2018, the company will invest in OLED technology to promote future growth.
If we assume that the consensus estimate is accurate, the average annual growth rate in 2018 and 2019 is 19.8%. Therefore, if the growth of EPS in 2018 is low, the growth in 2019 will exceed the low growth in 2018. This is why I like to think of MagnaChip as a two-year investment opportunity. In general, a low valuation should enable stocks to appreciate at a strong rate, at least in line with earnings growth, and may exceed the rate of earnings growth from PE expansion.
MagnaChip's Risk
Investors may value MagnaChip at a lower valuation due to the following risks:
MagnaChip has a small number of customers and accounts for a large portion of its revenue. The top ten customers in 2017 accounted for 57% of revenue. Loss of business of any of these customers will have a significant negative impact on MagnaChip's revenue.
The good news is that MagnaChip is trying to reduce risk by expanding its customer base. The company made improvements in 2016, with the top ten customers accounting for 64% of revenue. Therefore, the company's efforts to increase more customers should further reduce this proportion.
Another risk is that the company's total liabilities are as high as US$303 million and its negative operating cash flow is US$ 18.44 million. This means that the company may re-issue stocks to raise funds, which may dilute shareholders. MagnaChip made a stock issue in 2017. Another stock issue may cause the stock price to fall because the stock issue in 2017 caused the stock to fall by 15%. MagnaChip is said to be working to optimize asset utilization, ROIC, and cash flow generation. Therefore, we must see how the balance sheet and cash flow improve over time.
MagnaChip's Outlook
As the annual earnings growth rate may experience some twists and turns, I expect to have 20 years in 2019. I also think that other investors will see growth after 2018 and take into account the expected growth in 2019. MagnaChip's top-line growth will be driven by the growth of existing customer businesses and the increase in new customers.
The two-year price goal I gave to stock was about $13.30. This is about 40% more than the current price. Based on expected earnings per share of $1.07 in 2019, this would bring the forecasted price-to-earnings ratio of 8.8 to 12.4, which is still significantly lower than the forecasted price-to-earnings ratio of 27.5 for the professional semiconductor industry. As expected earnings growth and PE valuations are below average, share prices may be pushed higher.
The rise in stock prices may be faster than my forecast. The stock has risen 30% in the past year or two. Therefore, if the market is still unstable, investors may increase their prices by 40% in a short time with a two-year increase in earnings. Analysts expect a one-year price target of $14.70, which means that the stock is up 56%. However, due to the risk factors I discussed, I remain more conservative.
The volatility of the stock may make MagnaChip a deal for many investors, rather than buying and holding a type of investment.
Let me know what you think in the comments section below. If you want to analyze excellent investment opinions for free, click FOLLOW at the top of the article near my name. This will allow my articles to be displayed on your home page.