tags:
CNO Financial Group, Inc. (CNO Quick QuoteCNO ) continues to gain traction from its cost-cutting measures and investment in technology.
Over the past seven days, the stock has witnessed its 2021 earnings estimate move 1.7% north.
It has a Value Score of A, which reflects an attractive valuation of the stock.
CNO Financial came up with an earnings surprise of 26.1%, on average. Its bottom line beat estimates in all the trailing four quarters.
Now let's see what makes this currently Zacks Rank #2 (Buy) company an investor favorite.
CNO Financial's second-quarter earnings per share of 66 cents beat the Zacks Consensus Estimate by 22.2% and improved 20% year over year owing to higher revenues, deferred care across its health lines and strong alternative investment performances.
It is constantly taking measures to lower expenses. In 2019 and 2020, the metric decreased 18.3% and 7.1%, respectively, year over year on the back of its initiatives. Although benefits and expenses rose in the first half of the year, we are hopeful that the cost-curbing measures will aid margins going forward. The company will pursue further strategic actions to control costs and enhance its earnings profile.
It invested significantly in technology to improve agent productivity as well as sales and advertising. This, in turn, is expected to enrich online customer experience and enhance lead productivity. The company deployed technology, equipment and training to allow its agent to serve clients via virtual consultations and digital insurance applications. Consumers can now buy Medicare products online.
Its strategic measures like the buyout of DirectPath to boost its portfolio in the Worksite division also poise it well for growth. The acquisition is expected to bring the company some best-in-class benefits management services and better enrollment capabilities, which are in high demand by both employers and employees. It is even expected to widen its distribution reach for the post-COVID environment.
The insurer has been raising its quarterly dividend since 2013 on the back of its solid cash flow. It also allocates capital to share repurchase programs. It is committed to deploy 100% of excess capital, which should attract investors' attention. The company returned $105 million to its shareholders through a combination of share repurchases and dividends in the second quarter. In May this year, management increased its dividend by 8%, marking the 9th consecutive annual increase.
The company is also poised for long-term growth on the back of a solid alternative investment performance, product and service launches, and strong contributions from its Consumer Division.
Shares of this company have gained 48.2% in a year's time, outperforming its industry's growth of 37.6%.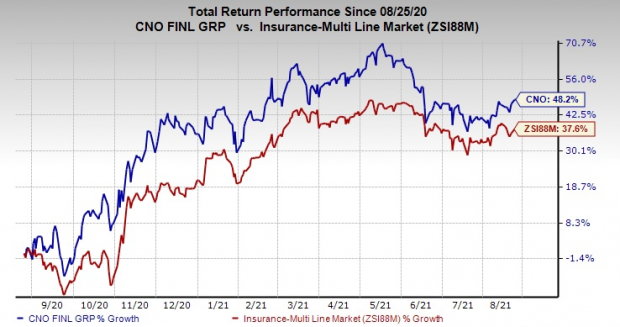 Image Source: Zacks Investment Research
Other Stocks to Consider
Some other companies worth considering in the insurance space are American International Group, Inc. (AIG Quick QuoteAIG ) , Aflac Incorporated (AFL Quick QuoteAFL ) and Horace Mann Educators Corporation (HMN Quick QuoteHMN ) , each presently holding a Zacks Rank of 2. You can see the complete list of today's Zacks #1 Rank (Strong Buy) stocks here.
American International Group, Aflac and Horace Mann Educators managed to deliver a trailing four-quarter surprise of 15.1%, 19.9% and 21.1%, respectively, on average.