tags:
RenaissanceRe Holdings Ltd. (RNR Quick QuoteRNR ) continues to be in investors' good books on the back of its strategic initiatives, solid second-quarter results and an encouraging solvency level.
Over the past 30 days, the stock has witnessed its 2021 earnings estimates move 6.9% north.
RenaissanceRe's second-quarter income per share of $5.64 beat the Zacks Consensus Estimate by 16.3% on higher gross premiums written across its Property as well as Casualty and Specialty segments. Its investment portfolio, consisting of high-quality, liquid-fixed income plus government and corporate securities with a relatively low allocation to equities is impressive.
Here we discuss the reasons for retaining this currently Zacks Rank #3 (Hold) player in your investment portfolio.
The company is witnessing a continued positive trend in gross premiums written, which doubled over a span of five years, driven by premium growth at both its Casualty and Specialty, and Property segments. This upside is quite obvious from the 24.6% CAGR witnessed in the 2014-2020 forecast period, primarily led by strong segmental results. During the first quarter of 2021, gross premiums written also jumped 27.3% year over year.
The insurer also continues to make strategic divestitures by getting rid of low-return high-risk businesses to streamline its business.
On the flip side, it is also acquiring and expanding businesses, which provide scope for growth. In March 2019, the company bought Tokio Millennium Re for a value of $1.5 billion to increase its scale and boost its portfolio. In the first half of 2021, RenaissanceRe spent $552.8 million on acquisitions. We expect such strategic initiatives to deepen its focus on growing its core operating business.
Its Capital Partners business has also been contributing to its performance since 2015. It managed to grow this business line from four vehicles and $6 billion in capital to six vehicles with more than $11 billion worth of capital. Given the current scenario, the segment is well-poised for long-term growth.
The leading property and casualty insurer has a solid solvency position. With no debt maturity until 2025, it is also successful in reducing debt from the 2020-end level. Total debt of the company represents 13.6% of its capital, lower than the industry's average of 19.5%. As of Jun 30, 2021, it had cash and cash equivalents worth $1.78 billion, higher than its debt level of $1.1 billion. Over the past few years, it has been witnessing free cash flow (except in 2020).
RenaissanceRe has been deploying excess capital to business for a considerable period of time. It has been raising dividend since several years. In February 2021, the company's board of directors approved a 2.9% hike in the quarterly dividend. It currently has a dividend yield of 0.9%, higher than the industry average of 0.4%. Management expects to enhance its shareholder value in 2021 and beyond.
Year to date, the company has purchased shares worth $618 million.
However, dealing in property and casualty insurance, it is always exposed to cat activities, the occurrence of which imparts volatility to its results.
In the past six months, shares of the company have gained 3.5%, underperforming its industry's growth of 14%. You can see the complete list of today's Zacks #1 Rank (Strong Buy) stocks here.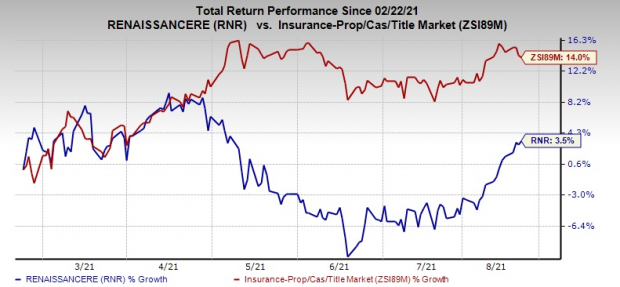 Image Source: Zacks Investment Research
Stocks to Consider
Some better-ranked companies in the same space are Fidelity National Financial, Inc. (FNF Quick QuoteFNF ) , Axis Capital Holdings Limited (AXS Quick QuoteAXS ) and Selective Insurance Group, Inc. (SIGI Quick QuoteSIGI ) , each presently holding a Zacks Rank #2 (Buy).
Fidelity National Financial, Axis Capital and Selective Insurance managed to deliver a trailing four-quarter surprise of 37.3%, 34.5% and 42.1%, respectively, on average.