tags:
ProAssurance Corporation (PRA Quick QuotePRA ) is continuously favored by investors on the back of its growing revenues and strategic measures.
The stock has witnessed its 2021 and 2022 earnings estimates move 160.7% and 30%, north, respectively.
The insurer reported second-quarter 2021 operating earnings of 49 cents per share, beating the Zacks Consensus Estimate of 6 cents by 716.7%. The company's bottom line rebounded from the year-ago quarter's loss of 60 cents per share, mainly on the back of higher premiums and solid segmental contributions.
Here we discuss the reasons for adding this currently Zacks Rank #2 (Buy) company to your investment portfolio. You can see the complete list of today's Zacks #1 Rank (Strong Buy) stocks here.
Given the company's strong fundamentals, it is well-placed for long-term growth.
The insurer's Specialty P & C business is well-poised for growth on the back of top-line improvement, strong rate gains and robust retention.
The company closed the buyout of NORCAL for a valuation of $441 million in May 2021. This takeover is expected to deepen ProAssurance's concentration on Medical Professional Liability Insurance. It will enhance its size and scale in the MPLI space, thus making the combined entity a leading specialty writer of liability insurance for healthcare professionals and facilities in the nation.
ProAssurance achieved significant inorganic growth via a slew of successful acquisitions and integrations. Its financial size and strength helped it in this regard. The buyouts of American Physicians Service Group in 2010 and Eastern Insurance Holdings in 2014 strengthened its position in the workers' compensation market.
The company enjoyed solid gross premiums from 2015 to 2019. However, the metric declined in 2020 due to lower premiums across its Specialty P&C segment, Workers' Compensation Insurance segment and the Segregated Portfolio Cell Rei! nsurance segment. In the first half of 2021 though, gross premiums written were up 6.8% year over year to $280.3 million. Premiums are but expected to remain under pressure due to changes in payroll estimates.
The current price-to-book valuation of the company looks attractive. The P/B ratio of the company now stands at 0.9X, lower than its industry's average of 1.3X.
The company's 2021 earnings estimate stands at 73 cents, indicating an upside of 240.4% from the year-ago reported figure.
Price Performance
Shares of this property and casualty (P&C) insurer have gained 62.8% in the past year compared with the industry's growth of 25.8%.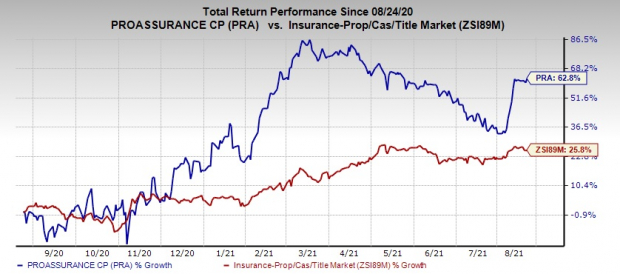 Image Source: Zacks Investment Research
Other Stocks to Consider
Some other stocks worth considering from the same space are American Financial Group, Inc. (AFG Quick QuoteAFG ) , RLI Corp. (RLI Quick QuoteRLI ) and Kinsale Capital Group, Inc. (KNSL Quick QuoteKNSL ) . While American Financial and Kinsale Capital currently sport a Zacks Rank #1, RLI Corp. has a Zacks Rank of 2 at present.
American Financial, RLI Corp. and Kinsale Capital came up with a trailing four-quarter surprise of 52.8%, 155.2%, and 11.9%, on average.