tags:
The Timken Company (TKR Quick QuoteTKR ) has acquired Intelligent Machine Solutions (iMS) in a bid to expand its Rollon linear motion product range in robotics and automation solutions. These product ranges complement with Timken's larger and heavy-duty applications, such as seventh-axis robotic transfer units (RTUs) and gantry systems. This deal opens up opportunities for Rollon in the growing $700-million global robotic transfer unit industry.
Norton Shores, MICH-based iMS, is a producer of industrial robotics and automation solutions which designs floor-mounted, overhead, rotary and extreme seventh-axis RTUs and gantry systems for several manufacturers across industries to automate certain production processes.
In fact, the buyout will enhance Rollon's leadership in the robotics and automation industry, packaging and marine end-market sectors, as well as aerospace and automotive production plants. This will also boost Rollon's operational footprint in the United States.
In 2018, Timken acquired Rollon and stepped in the linear motion product space. These products include linear guides, telescopic rails, and linear actuators and systems, which are utilized in a wide array of industrial and commercial applications.
Timken continues to pursue strategic acquisitions to broaden its portfolio and capabilities across diverse markets, with a focus on bearings, adjacent power transmission products, and related services. Along with Rollon, Timken acquired Cone Drive and ABC Bearings in 2018. In 2019, Timken completed the acquisition of BEKA Lubrication and the Diamond Chain Company. The acquisition of BEKA Lubrication strengthened the company's global leadership in the automatic lubrication systems market sector.
The Diamond Chain acquisition has fortified Timken's leadership in high-performance roller chains for industrial markets. In November 2020, the company purchased all assets of Aurora Bearing Company to expand its offerings in the engineered bearings space. These acquisitions have strengthened the company's global presence in growing markets, particularly China and Europe. These buyouts are expected to deliver significant cost and revenue synergies in the upcoming period.
Recently, the company reported second-quarter 2021 results, wherein earnings missed the Zacks Consensus Estimate but improved year over year. Revenues came in line with the Consensus Mark and increased year on year.
Timken expects revenue growth of 19% in 2021, higher than its previous expectation of an 18% rise. It anticipates adjusted earnings per share between $5.15 and $5.45. The mid-point of the range reflects year-over-year growth of 30%. Improving demand across most markets, higher organic revenues across the Mobile Industries and Process Industries segments, favorable impact from foreign currency exchange rates, as well as the benefit of acquisitions and positive pricing are supporting the company.
Share Price Performance
So far this year, shares of Timken have declined 4.2% compared with the industry's growth of 3.8%.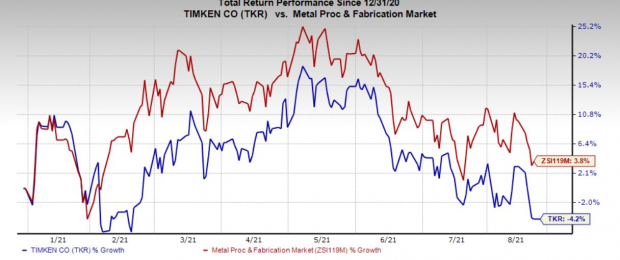 Image Source: Zacks Investment Research
Zacks Rank & Stocks to Consider
Timken currently carries a Zacks Rank #3 (Hold).
Better-ranked stocks in the Industrial Products sector include Encore Wire Corporation (WIRE Quick QuoteWIRE ) , Lincoln Electric Holdings, Inc. (LECO Quick QuoteLECO ) and Lindsay Corporation (LNN Quick QuoteLNN ) . While Encore Wire and Lincoln Electric sport a Zacks Rank #1 (Strong Buy), Lindsay carries a Zacks Rank #2 (Buy), at present. You can see the complete list of today's Zacks #1 Rank stocks here.
Encore Wire has a projected earnings growth rate of 332.6% for fiscal 2021. So far this year, the company's shares have gained 45%.
Lincoln Electric has an expected earnings growth rate of 45.1% for 2021. The stock has appreciated 22%, year to date.
Lindsay has an estimated earnings growth rate of 17.3% for the ongoing year. The company's shares have gained 35%, so far this year.