tags:
If you haven't followed Support.com's story, the company recently merged with Greenidge Generation (NASDAQ:GREE) on Sept. 14. Before, SPRT stock — now GREE stock — only represented tech support for work-at-home employees. Now, though, this name is levered to cryptocurrency. Greenidge bought its New York power plant in 2014, converting it to natural gas by 2017. The company now uses the facility to run some 8,000 Bitcoin (CCC:BTC-USD) mining computers.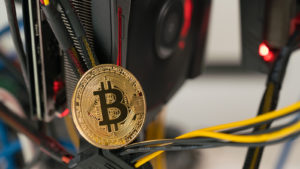 Source: biggunsband / Shutterstock.com
When I wrote about Support.com back in early September, I agreed with management's plan to merge. I likened the move to a "Hail Mary" pass in football. After all, SPRT has made very little in profits over the years and revenue growth has become anemic.
This change in focus is smart. Still, I don't know if shareholders will see anymore in the way of capital appreciation here. It all really depends on whether the bet on cleaner Bitcoin mining pays off. Here's why.
Support.com's New Focus at Odds
If you go to Greenidge's "Environmental Stewardship" page, you'll see that the company is very proud of its work to provide cleaner Bitcoin mining. Greenidge states:
"In Upstate New York, we transformed a former coal-fired plant into a clean-burning natural gas power plant, significantly reducing historic carbon emissions at the facility […] In South Carolina, approximately two-thirds of our electricity is sourced from zero-carbon sources such as nuclear power, and we have committed to offsetting the operation's remaining carbon footprint."
However, not everyone is so impressed with Greenidge on this front. In July, NBC News published an interesting piece that provided another view of what's happening at the plant — one not so motived by investor dollars. The article notes the following:
"[E]missions from the plant are rocketing. At the end of last year, even though it was operating at only 13 percent capacity, the plant's carbon dioxide equivalent emissions totaled 243,103 tons, up from 28,301 tons in January […] Before it began mining bitcoins, the plant generated carbon emissions of 119,304 tons in 2018 and 39,406 tons in 2019."
Now, protests of the plant are a common occurrence. Moreover, residents don't like the idea of some 30 more New York power plants being converted into mining facilities. The environmental impact is frankly much higher than Greenidge lets on. Former Environmental Protection Agency (EPA) administrator Judith Enck noted this: "New York had established a goal in law of reducing greenhouse gas emissions […] The state will not reach that goal if the Greenidge Bitcoin mining operation continues."
So, what does this mean for SPRT — or should I say, GREE stock?
GREE Stock: What Happens if the Plant Is Shut Down?
Right now, the entire cryptocurrency movement is made up of bulls who will say almost anything to make their case. I'm not saying that this is a bad thing. If you believe in something, you ought to be passionate about those beliefs. But in this instance, Greenidge is using environmental laws that were designed long before mining in order to skate around the opposition.
That said, if the activists of Dresden, New York can find some well-funded supporters to finance the fight against these excessive emissions, shareholders of Support.com may also end up taking the hit.
First, the plant might someday find itself having to spend millions upon millions to fix its emissions problem. That would be costly and time-consuming. Secondly, if Support.com were to find itself operating alone again because of an environmental setback, investors would likely not give it another chance.
As a result, this stock — whether trading as GREE stock or SPRT stock — could probably get sent back to the $2 range. That's where it traded as recently as May, worth a fraction of its current value.
So, will all this happen? I doubt it. But it's something to keep in the back of your mind. Especially as investors continue to pile on this so-called crypto gravy train.
On the date of publication, Will Ashworth did not have (either directly or indirectly) any positions in the securities mentioned in this article. The opinions expressed in this article are those of the writer, subject to the InvestorPlace.com Publishing Guidelines.
Will Ashworth has written about investments full-time since 2008. Publications where he's appeared include InvestorPlace, The Motley Fool Canada, Investopedia, Kiplinger, and several others in both the U.S. and Canada. He particularly enjoys creating model portfolios that stand the test of time. He lives in Halifax, Nova Scotia.