Sundial Growers (NASDAQ:SNDL) stock has been an inexplicably popular cannabis play all year long.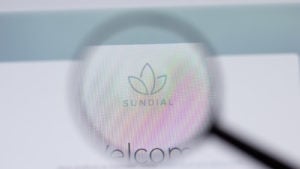 Source: Postmodern Studio / Shutterstock.com
By now, it's well-known that the at-one-point nearly bankrupt cannabis producer enjoyed a stunning comeback thanks to Reddit's r/WallStreetBets community.
Once that group embraced SNDL stock, it shot up from the pennies to as high as $4.
The company used that opportunity to raise a boatload of cash. So much so, in fact, that it paid off its debt and had a billion dollars left over. In theory, this would give Sundial the fast track to dominate the cannabis industry. In practice, it's taken a while to put those funds to work.
After all, there's already too much money chasing too few opportunities, at least in markets such as Canada.
The industry has struggled, in part, because too many growers are going at a relatively small end market, causing profit margins to be anemic.
Sundial simply couldn't just put a billion bucks to work overnight. However, the company is making progress, and traders may start to give SNDL stock a boost in the coming months.
Bad Q2 Earnings and SNDL Stock
Sundial's Q2 results, out in late August, were an unpleasant affair. The company only generated 12.7 million CAD in revenues for the quarter, which is a woeful amount for a firm that's been around as long as Sundial has.
Meanwhile, the company lost more than 52 million CAD in the course of generating that revenue. Somehow, the company didn't even turn a positive result on an adjusted EBITDA basis.
The company's retail strategy turnaround hasn't paid off yet, either. It only got 3.19 CAD per gram of marijuana that it sold. That's up a measly 1% from the same quarter last year.
For investors that assumed cannabis farming had to be a profitable venture, Sundial has definitively disproven that notion.
However, it's not all bad news. For one thing, management has stated that it will no longer pursue unprofitable revenue growth.
So some of the weakness in operating revenues is in large part due to management showing restraint, which is commendable. And, overall, while Sundial's legacy operations continue to sputter, its new financing arm is showing a more promising trajectory.
Exposure to the Global Cannabis Industry
Sundial has put its new capital to a good use. It has formed a 50/50 joint venture (JV) for a cannabis financing arm, named SunStream Bancorp.
As of this quarter, SunStream has now deployed more than 250 million CAD of capital in various investments. These investments into firms such as Clever Leaves (NASDAQ:CLVR) have given Sundial interests in marijuana operations in the U.S., Colombia, and other international locales.
Also, according to management, while it's still early going so far, it is earning a 13% annualized rate of return on capital deployed. That, clearly, would be a much better result than what its legacy marijuana cultivation efforts have managed.
In addition to SunStream, the company also picked up the Inner Spirit retail marijuana business.
Inner Spirit has more than 100 points of distribution in Canada. These are largely run in a franchise model, so it doesn't produce much top-line revenue to Sundial yet. But it could become something interesting over time.
SNDL Stock Verdict
What Sundial is doing with SunStream is great.
If it really takes off, it could operate as something like an Innovative Industrial Properties (NYSE:IIPR). That company specializes in buying and then leasing marijuana facilities to marijuana growers.
IIPR stock has shot up hundreds of percent in recent years, outperforming almost all the actual cultivators. At the end of the day, the farmer still has to pay rent regardless of how profitable the business is.
SunStream is a unique opportunity to achieve similar favorable business economics for Sundial.
The only real problem with this plan is that it can't take off overnight. These sorts of deals tend to take months to come to fruition, and, as a lender, Sundial needs to establish relationships with various clients to diversify its risk. This is not an overnight process.
As such, traders expecting big things from SNDL stock might need to temper their enthusiasm. Based purely on business fundamentals, there is no reason for SNDL stock to go back up to $4 in the near term.
Folks owning this for a huge short squeeze probably don't have the patience for Sundial to become a major cannabis bank over the next year or two. But, for investors with patience, Sundial is heading along the right path.
On Penny Stocks and Low-Volume Stocks: With only the rarest exceptions, InvestorPlace does not publish commentary about companies that have a market cap of less than $100 million or trade less than 100,000 shares each day. That's because these "penny stocks" are frequently the playground for scam artists and market manipulators. If we ever do publish commentary on a low-volume stock that may be affected by our commentary, we demand that InvestorPlace.com's writers disclose this fact and warn readers of the risks.
Read More: Penny Stocks — How to Profit Without Getting Scammed
On the date of publication, Ian Bezek did not have (either directly or indirectly) any positions in the securities mentioned in this article. The opinions expressed in this article are those of the writer, subject to the InvestorPlace.com Publishing Guidelines.
Ian Bezek has written more than 1,000 articles for InvestorPlace.com and Seeking Alpha. He also worked as a Junior Analyst for Kerrisdale Capital, a $300 million New York City-based hedge fund. You can reach him on Twitter at @irbezek.