tags:
Silgan Holdings Inc. (SLGN Quick QuoteSLGN ) is well-poised to benefit from the acquisition of the dispensing business of the Albéa Group and its capacity expansion projects to cater to the significant growth in health and hygiene product offerings. Ongoing demand in certain markets and recovery in beauty and fragrance markets, and the company's cost control efforts will help negate the impact of input cost inflation and supply chain headwinds on its results.
Acquisition & Investment in Growth Bode Well
In June 2020, Silgan closed the previously-announced acquisition of Albea's dispensing business. It is a strategic fit for the closures business. This buyout is likely to strengthen its position in the dispensing markets. The company expects to realize operational cost synergies of $20 million, on an annual run-rate basis, within 18 months following the acquisition. These synergies would be achieved primarily through reductions in general and administrative expenses, procurement savings and manufacturing efficiencies.
Silgan has initiated several capacity expansions projects for dispensing triggers and pumps. This will help the company to tap the significant growth in demand for health and hygiene products.
Demand to Counter Costs in 2021
Silgan expects adjusted earnings per share in the range of $3.30 to $3.45 in 2021. The mid-point of the guided range indicates an improvement of 10.3% over the record earnings per share of $3.06 in 2020. This will be aided by recovery in the beverage, beauty and fragrance markets and its ongoing focus on cost reduction. These gains will help counter inflated material costs and labor supply challenges, which are anticipated to persist through the year.
The Metal Container segment's income in 2021 is expected to modestly improve year over year on the current solid demand and manufacturing improvement efforts. The Dispensing and Specialty Closures segment will gain from recovery in the beverage, beauty and fragrance markets. Segment income is expected to increase significantly in 2021 compared to the prior year primarily due to the inclusion of the dispensing operations of Albéa. New business gains, improved manufacturing efficiencies and higher pension income will drive the segment's income. The Custom Containers segment continues to gain from favorable product mix, anticipated higher volumes backed by new business awards and continued manufacturing efficiencies.
Meanwhile, certain products generally not intended for stay-at-home use, such as gallon, food cans for restaurants, sports drinks and some beauty products, are likely to witness volume declines this year. Volumes in the fragrance market have started to recover but the resurgence of COVID-19 cases and the new strains might dent this progress, considering that this market is heavily dependent on retail and travel.
High Debt Levels Remain a Concern
Following the completion of the acquisition of Albea's dispensing business, Silgan has been witnessing increased debt levels for the past few quarters. High debt levels and the consequent higher interest expense remain concerns. Its total-debt-to-total-capital ratio stood at 0.68 as of the second-quarter 2021 end. The company is, however, taking proactive measures to strengthen its balance sheet amid the ongoing uncertainty. For 2021, Silgan's free cash flow is estimated at $400 million.
Price Performance
The stock has gained 9.6% so far this year compared with the industry's growth of 2.8%.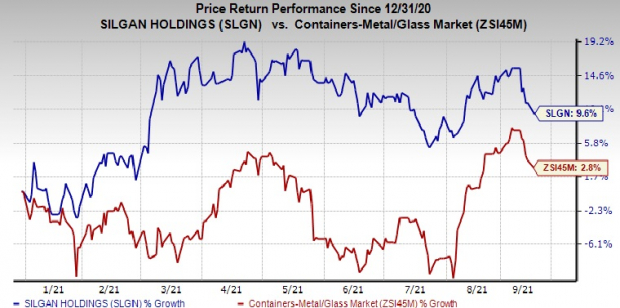 Image Source: Zacks Investment Research
Zacks Rank & Stocks to Consider
Silgan currently carries a Zacks Rank #3 (Hold).
Some better-ranked stocks in the Industrial Products sector include Encore Wire Corporation (WIRE Quick QuoteWIRE ) , Deere & Company (DE Quick QuoteDE ) and Lincoln Electric Holdings, Inc. (LECO Quick QuoteLECO ) . While Encore Wire sports a Zacks Rank #1 (Strong Buy), Deere & Lincoln Electric carry a Zacks Rank #2 (Buy), at present. You can see the complete list of today's Zacks #1 Rank stocks here.
Encore Wire has a projected earnings growth rate of 332.6% for fiscal 2021. So far this year, the company's shares have gained 45%.
Deere has an estimated earnings growth rate of 117.5% for fiscal 2021. The company's shares have rallied 36.3%, so far this year.
Lincoln Electric has an expected earnings growth rate of 45.1% for 2021. The stock has appreciated 22%, year to date.