Generally speaking, I'm not the biggest fan of discussing publicly traded companies with a strong social media following. In many cases, you're just dealing with the hype of the moment. However, Senseonics (NYSEAMERICAN:SENS) stock offers a sound basis for justification if you're interested in gambling.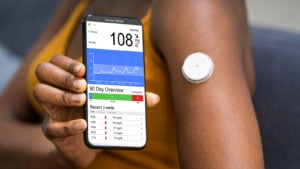 To provide some quick background, Senseonics gained fame for Eversense, its long-term continuous glucose monitor (CGM) product, offering diabetes patients greater flexibility in their day-to-day lives and improving overall outcomes.
Better yet, the company has positioned itself as one of the top innovators in the field, which theoretically offers much upside for SENS stock.
Primarily, demand for CGM solutions will likely grow significantly from here on out, particularly as society gradually moves past the novel coronavirus pandemic.
According to Grand View Research, the market value of the CGM device industry this year is approximately $5.28 billion. But by the end of 2028, it could almost double to $10.36 billion, representing a compound annual growth rate of 10.1% during the stated years.
Further, Senseonics' CGM devices offer key advantages over the competition. As the company's website states, one of the advantages of going with Eversense is its on-body vibration alerts.
According to Diatribe.org, Eversense "is the first CGM to provide on-body vibration alerts! In the event of highs and lows, the transmitter will vibrate to notify the user, even if the phone is out of range – a particularly useful feature for individuals who are visually impaired or have trouble hearing."
Inherently, that feature gives Senseonics a leg up on the competition. As well, if you were a patient with compromised capabilities, having on-body vibration alerts is a major plus.
While this would seemingly tip the needle in favor of SENS stock, you should also consider what could go wrong.
After all, CGM is a very competitive market.
SENS Stock Is in for a Tough Battle
Although Senseonics' product offerings are intriguing — especially because of their long-term use profile — the company isn't the only CGM device manufacturer in town. With DexCom (NASDAQ:DXCM) and Abbott Laboratories (NYSE:ABT) in the mix, Senseonics will be plying its trade in contested territory.
That's not to say that investors should give up on SENS stock, but when you're competing against established blue chips, you should be prepared for potential volatility.
Now on paper, Senseonics has more of a fighting chance because of its innovations such as the aforementioned on-body alerts. But it got me thinking, just how in-demand would this feature be?
To get a better idea, I looked up the prevalence of diabetes sufferers with visual problems (the key market for those who would want on-body alerts).
According to a research paper from BMJ Journals, an analysis on diabetes patients with visual impairments revealed the following statistics:
Of the patients assessed at the time of the diabetes diagnosis the prevalence of moderate to severe visual impairment and blindness was 5.4% (95% CI 4.1 to 6.7) and 0.9% (95% CI 0.4 to 1.4), respectively. Among the patients alive and with a valid determination of visual acuity 6 years after the diagnosis, the prevalence of moderate to severe visual impairment and blindness was 6.7% (95% CI 5.0 to 8.4) and 2.4% (95% CI 1.3 to 3.4), respectively.
While these are significant numbers, they pale in comparison to the number of those who don't monitor their blood sugar levels.
"An American Diabetes Association survey found that 21 percent of adults with Type 1 diabetes never checked their blood glucose. Of those with insulin-treated Type 2 diabetes, 47 percent never monitored. And among those with Type 2 diabetes who were not using insulin, 76 percent never checked."
Therefore, while the vibration alerts are innovative, they might not be the gamechanger for SENS stock that some proponents are hoping for.
Fingersticks Might Hurt the Cause
According to Diatribe.org, "Eversense is very accurate, but it does requires two fingerstick calibrations per day, unlike the no-calibration Dexcom G6 and Abbott FreeStyle Libre." That could be an underappreciated problem for SENS stock.
As Diabetes Self-Management points out, many folks don't like the discomfort associated with finger-sticking. Due to the sizable number of patients not checking their glucose levels, this could be a much bigger issue than the visual impairment issue that would support demand for on-body alerts.
Since Dexcom and Abbott CGM devices require no calibration, patients who are tired of constant fingersticks might opt for these two options based on their individual cost-benefit analysis.
Again, that's not to say that SENS stock is completely irrelevant. However, if you're interested in buying shares, you may want to do some investigating yourself before making a decision.
On Penny Stocks and Low-Volume Stocks: With only the rarest exceptions, InvestorPlace does not publish commentary about companies that have a market cap of less than $100 million or trade less than 100,000 shares each day. That's because these "penny stocks" are frequently the playground for scam artists and market manipulators. If we ever do publish commentary on a low-volume stock that may be affected by our commentary, we demand that InvestorPlace.com's writers disclose this fact and warn readers of the risks.
Read More: Penny Stocks — How to Profit Without Getting Scammed
On the date of publication, Josh Enomoto did not have (either directly or indirectly) any positions in the securities mentioned in this article. The opinions expressed in this article are those of the writer, subject to the InvestorPlace.com Publishing Guidelines.
A former senior business analyst for Sony Electronics, Josh Enomoto has helped broker major contracts with Fortune Global 500 companies. Over the past several years, he has delivered unique, critical insights for the investment markets, as well as various other industries including legal, construction management, and healthcare.