Robinhood (NASDAQ:HOOD) stock has been only public for under a month and it has already seen its fair share of drama.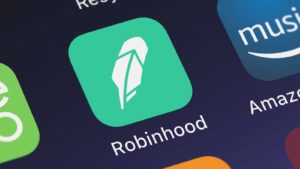 Source: OpturaDesign / Shutterstock.com
It stumbled out of the gate and faced mockery, only to deliver a 155% bear-slaying rally. It peaked on Aug. 4 and simply collapsed within hours. It sits now 45% below the high water mark and struggling to find footing.
This is concerning but certainly not a death sentence. My conclusion today will be that HOOD stock makes for a valid long term bet. If the markets are higher in the future, it will do very well.
The equity markets have never been more bullish. The S&P 500 broke record Monday even when it opened down. Meanwhile, it's a concern that Robinhood stock is struggling to stop the skid. Nevertheless, the extra exuberance it found a few weeks ago is almost all out. Falling from here should require harder work from the sellers.
HOOD Stock Enjoys a Loyal Base
Fundamentally, the thesis for owning this stock makes sense. Trading volumes have exploded and I don't see the trend reversing. The pandemic created millions of new investors. Robinhood was the highlight of that phenomenon.
7 Dividend Stocks to Avoid Until They Start to Shape Up Again
As a result, they have a loyal user base that perhaps is just getting started. They recently reported 18 million accounts with a balance. That's up 40% from just three months prior. With time they can learn to adjust strategies and hone skills. While management hasn't touted the explosive growth yet, the street will figure it out later.
The financial metrics are promising. Statistically, HOOD stock has a price-to-sales ratio under 30. While this is not cheap, it is not outrageous either. This is especially true when the revenue line item on the P&L is growing fast. Robinhood now has a $1.4 billion running 12 months book of business. They still lose a lot of money to achieve that, but for that's normal.
Over the long term, as long as they have growth on their side they can tweak profitability.
The Investor Confidence Factor

Source: Charts by TradingView
The company is still too new to judge harshly. This reminds me of the situation with Uber (NYSE:UBER). The expectations were so high coming into its IPO that was sure to disappoint. Luckily in this case, HOOD stock found footing really quickly. UBER fell 70% before regaining strength.
Speaking of which, Robinhood showed a ton of that. Fours days after its IPO, it zoomed 155% from low to high. Now it's in the process of giving it back, but that's only to reset for a better base.
Having seen such violent moves, it has the opportunity to establish stronger hands. Those who buy shares now will have strong conviction. The underlying assumption for that is that the equity markets don't breakdown. Stocks don't trade in a bubble, they need the collective to stay healthy. Therefore, there is extrinsic risk going into Jackson Hole Fed meeting.
Investors expect them to announce the taper schedule or at least discuss it. In theory this is the beginning of the end of the QE. The stimulus program has been in place since December 2018. Losing it could cause a deterioration in investor confidence. Sentiment has been a powerful price driver so far.
That is why the bulls have been buying every dip almost before it happens. What happens after the taper is an unknown for a few more weeks. Wall Street hates unknowns and, hence the concern. Consequently, regardless of how good the HOOD idea is, we should leave room for error.
Moderation Is Important
Going all in now solely based on homework is wrong. This is where it would be worthwhile learning how to use options to create a safety zone.
The misconception is that options are dangerous, but they don't have to be. Selling puts below current price instead of buying shares makes a lot of sense. If I buy shares now and price falls, I lose money immediately. Conversely, if I sell puts 20% lower then I have at least that much of a buffer.
Technically, the message from the charts is simple: Selling HOOD stock below $35 per share was wrong, as was buying it above $80. Now that it is fast approaching the lower end of the range, it becomes interesting again. From a trading perspective, there isn't a hard floor until $40 per share. Long-term investors need not worry about a few bucks here and there.
On the date of publication, Nicolas Chahine did not have (either directly or indirectly) any positions in the securities mentioned in this article. The opinions expressed in this article are those of the writer, subject to the InvestorPlace.com Publishing Guidelines.
Nicolas Chahine is the managing director of SellSpreads.com.