tags:
Regeneron Pharmaceuticals, Inc. (REGN Quick QuoteREGN ) announced that the U.K.'s Medicines and Healthcare products Regulatory Agency ("MHRA") has granted Conditional Marketing Authorization (CMA) to its antibody cocktail, casirivimab and imdevimab, to prevent and treat acute COVID-19 infection.
The cocktail is known as REGEN-COV in the United States and Ronapreve in the U.K. and other countries.
The CMA comes amid the rising COVID-19 cases with new variants. The MHRA has also authorized emergency supply of the antibody cocktail to prevent and treat acute COVID-19 infection for people in Northern Ireland. In addition, the antibody cocktail is authorized to treat people across the U.K. who have an existing infection or to prevent COVID-19 infection, including in people who may need ongoing monthly doses if they have a medical condition making them unlikely to respond to or be protected by vaccination.
The authorization is based on results from two phase III studies evaluating the antibody cocktail to treat high-risk non-hospitalized patients and prevent symptomatic infection in asymptomatic household contacts of SARS-CoV-2 infected individuals.
The FDA had also granted an Emergency Use Authorization (EUA) to REGEN-COV to treat mild-to-moderate COVID-19 in adults and pediatric patients with positive results of direct SARS-CoV-2 viral testing, and those at high risk of progression to severe COVID-19, including hospitalization or death. In June 2021, the FDA updated the EUA by lowering the dose to 1,200 mg and permitting administration by subcutaneous injection when intravenous infusion is not feasible.
Regeneron fulfilled its second agreement with the U.S. government in the second quarter to manufacture and deliver 1.25 million doses of REGEN-COV at the lowest treatment dose authorized by the FDA, and recognized $2.59 billion in REGEN-COV sales.
Earlier in the month, Regeneron submitted the first of two Biologics License Applications (BLAs) for REGEN-COV. The initial submission included data on the efficacy and safety ofREGEN-COV to treat and prevent SARS-CoV-2 infection in non-hospitalized people.
The second BLA submission, expected to be completed later this year, will focus on those hospitalized because of COVID-19.
The company's shares have gained 33.8% in the year so far against the industry's decline of 2%.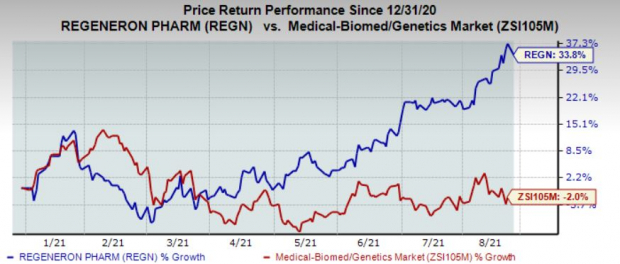 Image Source: Zacks Investment Research
Regeneron has collaborated with Roche (RHHBY Quick QuoteRHHBY ) to increase global supply of the cocktail. Roche is primarily responsible for development and distribution outside the United States, including throughout the U.K.
The FDA has also granted an EUA to GlaxoSmithKline plc (GSK Quick QuoteGSK ) and Vir Biotechnology, Inc. (VIR Quick QuoteVIR ) 's sotrovimab, an investigational single-dose monoclonal antibody, for the treatment of mild-to-moderate COVID-19 in adults and pediatric patients.
Regeneron currently sports a Zacks Rank #1 (Strong Buy). You can see the complete list of today's Zacks #1 Rank stocks here.