tags:
The stock of Petco Health and Wellness Company (WOOF Quick QuoteWOOF ) has been on a rise after reporting strong second-quarter 2021 earnings of 25 cents per share, which beat the Zacks Consensus Estimate by 38.89%.
The company that provides an entire ecosystem of care for pets, both online and offline, reported revenues of $1.4 billion, up 19% year over year. Earnings seemed healthy, underscored by 50% growth in recurring revenue customers, which creates stickiness, and creates long-term predictability in the company's earnings.
Recurring revenues were up 60%, generated by automatically-scheduled delivery of pet food, subscription PupBox for new pet owners, insurance and Vital Care membership. The quarter marked the 11th consecutive period of comp sales growth, driven by recurring revenue offerings, rapidly expanding vet business and digital growth
Top-line performance led to 19% adjusted EBITDA and 127% adjusted EPS growth. During the quarter, Petco added around 1 million customers who are primarily millennial and Gen-Z customers.
Along with growing its revenues, the company is focusing on deleveraging its balance sheet. Net debt was reduced to 1.5 billion from $3.1 billion a year earlier. Free cash flow of $103 million was generated in the first six months of 2021, up 142% year over year.
A guidance raise following the second-quarter earnings reflects its strong business momentum. The company now expects revenue growth in the range of 14-16% to $5.6-$5.7 billion and EPS in the band of 81-85 cents. Earlier, revenues were expected to jump 11-13% and EPS to grow in the 73-76 cents range.
With its focus on omni-channel sales, Petco is uniquely positioned to lead the pet care market, which is witnessing increased pet ownership, greater spend per pet, and the continued humanization and premiumization of the pets.
Capital expenditures associated with the building of vet hospitals, digital innovation and supply chain will drive long-term growth.
The co! mpany with its wide product and service bouquet along with its online and offline presence is perfectly poised to tap an expanding per care market. The market size for pet care products surpassed $232 billion in 2020 and is poised to see a 6.1% CAGR between 2021 and 2027.
Other companies that are betting on the pet wellness industry include PetIQ, Inc.(PETQ Quick QuotePETQ ) , IDEXX Laboratories, Inc. (IDXX Quick QuoteIDXX ) and Phibro Animal Health Corporation (PAHC Quick QuotePAHC ) .
Petco presently carries a Zacks Rank #3 (Hold) and has declined 29.8% year to date compared with its industry's dip of 3.2%. Its advancement in a lucrative market will perk up its stock price going ahead.
You can see the complete list of today's Zacks #1 Rank (Strong Buy) stocks here.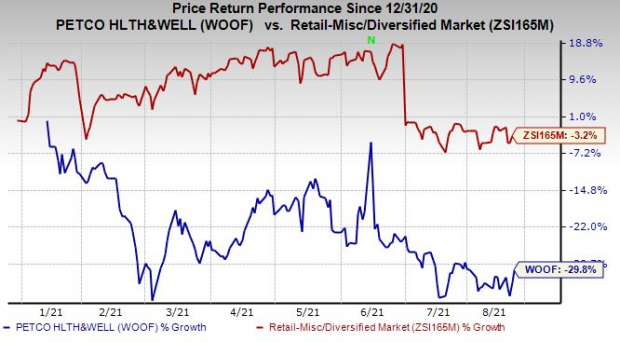 Image Source: Zacks Investment Research