tags:
Nvidia (NASDAQ:NVDA) has been skyrocketing this year, up 75% from $130.55 on Dec. 31, 2020 to $228.43 on Sept. 3. Moreover, NVDA stock has spiked since May 13 when it bottomed out at $136.65, up 67% in the past 4 months.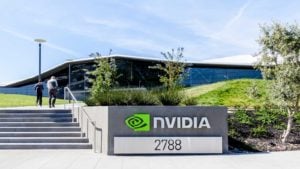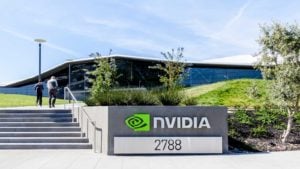 Source: JHVEPhoto / Shutterstock.com
However, despite these gains, I believe the stock still has more room to grow. Based on my assessment of its powerful free cash flow (FCF), it could be worth 58% more at $361.89 per share.
This is based on the semiconductor company's absolutely stellar fiscal second-quarter earnings report released on Aug. 18. For the quarter ending Aug. 1, Nvidia's earnings and FCF powered higher. This was driven by surging demand for its processors in the gaming and data center sectors, its two main lines of business.
Forecasting Nvidia's Free Cash Flow
Nvidia produced record revenue of $6.51 billion, up 68% year-over-year (YOY) and up 15% from Q1. The latter growth rate implies that on a run rate, going-forward basis, revenue could climb 74.9% in the next year. In other words, revenue seems to be accelerating.
A huge portion of this growth came from its gaming segment, which was up 85% at $3.06 billion. Essentially, millennials are still spending as much time playing games as they did prior to the pandemic despite lessened restrictions in many countries. In fact, some restrictions are coming back, so this bodes well for the company.
Its data center revenues grew 35%, but this is a stable and growing source of revenue for the company.
More importantly, the company's free cash flow simply exploded this quarter. On page four of the CFO Commentary presentation, Nvidia reported that its FCF for Q2 was $2.48 billion.
This represents an amazingly high 38.1% of its Q2 revenue of $6.507 billion in revenue. In fact, this was much higher than last quarter, when it made $1.56 billion in FCF. That was a margin of 27.55% of its $5.661 billion in revenue.
In other words, during Q2, Nvidia's FCF margin grew by 38%. Most companies are lucky if they can achieve that kind of FCF margin growth in one or two years, much less one quarter.
We can use this to estimate the company's FCF going forward. The average FCF margin over both quarters is basically 33%. So if we apply this to revenue estimates, we can forecast its FCF.
For example, analyst estimates from Refinitiv, as published by Yahoo! Finance, estimate that this year revenue will hit $25.74 billion. Next year, it could climb to $28.92 billion.
So, applying this 33% margin to these estimates results in $8.4942 billion in FCF for this fiscal year (FY), ending Jan. 2022, and $9.5436 billion for next fiscal year. We can now use these forecast numbers to estimate Nvidia's value.
What NVDA Stock Is Worth Using FCF Yield
One way to value NVDA stock is to use the FCF yield metric. This means that we divide the FCF estimates by a FCF yield ratio. For example, if we divide the FY 2022 FCF estimate of $8.4942 billion by 1%, the resulting target market value is $849.42 billion.
This is 49.2% more than Nvidia's Sept. 3 market capitalization of $569.248 billion. In other words, NVDA stock is worth 49.2% higher than its Sept. 3 price of $228.43, or $340.82 per share.
Additionally, if we use the FY 2023 FCF estimate of $9.5436 billion and divide it by a 1% FCF yield, the target market value could rise to $954.36 billion. That is 67.54% over its Sept. 3 market value, and implies a price of $382.96.
So, the average target price between $340.82 and $382.96 is $361.89. This represents a potential upside of 58.4% from the Sept. 3 price.
What to do With NVDA Stock
Keep in mind that I am not saying NVDA stock won't drop from here. For example, the company indicated that it still has not closed its deal with Softbank (OTCMKTS:SFTBY) to acquire Arm.
As I pointed out on July 29, it is still possible that the deal could fall through. That could be a hit to the NVDA stock price, at least according to one analyst.
However, the possibility of this occurring seems less likely now. As a result, investors should not be fearful about taking a position in NVDA stock. Even though they might have to average down in the stock, it still represents good value. Based on its powerful free cash flow my estimate is that it's worth $361.89, or 58.4% over today's price.
On the date of publication, Mark R. Hake did not hold a position, directly or indirectly, in any security mentioned in the article. The opinions expressed in this article are those of the writer, subject to the InvestorPlace.com Publishing Guidelines.
Mark Hake writes about personal finance on mrhake.medium.com and runs the Total Yield Value Guide which you can review here.