tags:
Nvidia  (NVDA) – Get Report is heading into its July-quarter earnings report up nearly 50% on the year, buoyed by investor expectations that the chip behemoth will continue to benefit from strong graphics-processing-unit (GPU) demand among gamers and cloud giants.
Among analysts polled by FactSet, the consensus is that the Santa Clara, Calif., company will report fiscal-second-quarter revenue of $6.33 billion (up 64% annually) and non-GAAP earnings per share of $1.02 (up 87%).
Nvidia typically shares quarterly sales guidance in its report. The company's fiscal-third-quarter revenue consensus is currently $6.57 billion, which implies 39% annual growth.
Real Money's tech columnist, Eric Jhonsa, will be breaking down Nvidia's report, which is due after the bell on Wednesday, along with an earnings call scheduled for 5 p.m. Eastern.
Please refresh your browser for updates if it does not do so automatically.
Nvidia is a holding in the portfolio of Jim Cramer's Action Alerts PLUS investing club. Want to be alerted before Jim Cramer buys or sells NVDA? Learn more now.
6:14 PM ET: Nvidia's call has ended. Shares are up 2.7% after hours to $195.59 after the company topped July quarter estimates and guided October quarter sales $230M above consensus at the midpoint of the company's guidance range, while indicating its Data Center segment will drive most of its Q/Q growth.
Nvidia posted 85% Y/Y growth for its Gaming segment, 35% growth for its Data Center segment (in spite of tough comps) and 156% growth for its Professional Visualization segment. And importantly, the company said it expects sales to be up over $500M Q/Q if one excludes its CMP crypto mining GPUs, which are expected to provide a "minimal" revenue contribution going forward.
Thanks for joining us.
6:09 PM ET: Huang with some closing remarks. Says Nvidia had another great quarter. Highlights Nvidia's ongoing AI efforts, investments in Omniverse, etc. Declares Omniverse to be "a platform for building the metaverse engine."
6:07 PM ET: A question about Nvidia's Omniverse 3D simulation/collaboration platform and how it could be used for AR/VR.
Huang: Omniverse is a simulator. It's made possibly by RTX's ray-tracing abilities and also Nvidia's simulation capabilities. We're creating wormholes into virtual worlds. There are use cases for robotics, logistics, content creation, CAD, etc. Omniverse is going to be an overlay for the virtual worlds that people increasingly call the metaverse. We'll enjoy a lot of our time in the future in Omniverse and the metaverse. It represents an extension of our AI strategy.
6:00 PM ET: A question about whether Nvidia is seeing any difference in Data Center trends between hyperscalers and vertical industries.
Kress: About 50% of our Data Center sales still involve vertical industries. Hyperscalers account for most of the rest, with supercomputer builders making up the remainder. We expect sales to both hyperscalers and vertical industries to rise Q/Q in FQ3.
Huang adds that enterprises are able to support AI to support simulation and data-driven approaches to research that are leading to a number of breakthroughs. Also highlights enterprise edge AI deployments within industries such as retail, agriculture, manufacturing, etc.
5:55 PM ET: A question about why some of Nvidia's gaming GPU sales still involve non-hashrate-limited GPUs.
Kress: Almost all of our Ampere gaming GPU sales now involve low-hashrate cards, but there are some other cards also being sold. The percentage of GPUs being sold that feature low hashrates continues to grow.
Huang: This crypto cycle is different for us than the last one. First, because of the rollout of LHR cards. Second, we're still early in the RTX cycle. Third, gaming GPU demand is very strong right now. Fourth, we have more growth drivers now. RTX laptop and workstation GPU sales have grown a lot.
5:50 PM ET: A question about how much headroom Nvidia still has for margin-expansion.
Huang: There's a large long-term opportunity for AI-driven automation across a number of markets. As we go after this opportunity and increase the value provided to customers, it allows us to grow our margins. Our operating leverage is architectural. 
5:46 PM ET: A question about Mellanox. It seems to be benefiting from 200G/400G upgrades and BlueField SmartNIC demand. How does Nvidia see second-half demand shaping up?
Huang: Mellanox is growing incredibly. It's benefiting from 3 trends: The rollout of scale-out/disaggregated computing workloads and the demands they place on networking, greater deployments of high-performance computing workloads, and the value of SmartNICs to offload a data center's software infrastructure from CPUs.
Adds that he thinks every data center is moving towards a zero-trust security model, which SmartNICs help enable.
5:39 PM ET: Huang: We have enough supply to meet our second-half growth plans. And we expect to meet our growth plans for next year. We're making pretty significant long-term supply commitments. I expect we'll see a supply-constrained environment for the vast majority of next year. And that's large because demand is so great.
5:37 PM ET: Question about gaming GPU supply mix.
Kress: We're facing supply constraints for a number of components. We think carefully about mix. Demand for high-end gaming products is strong right now, and we're trying our best to meet the needs of our customers.
5:34 PM ET: Question about Nvidia's Gaming growth expectations for FQ3.
Kress: Excluding CMP, we expect our revenue to grow over $500M Q/Q. The lion's share of that will come from Data Center. We do expect Gaming to be up slightly Q/Q, but we're still supply-constrained. Auto and Pro Viz are also expected to be up slightly Q/Q.
Huang: RTX is a fundamental reset of computer graphics. RTX demand is "quite incredible." Ampere is the best-selling GPU architecture in our history. 80% of our base still has to upgrade to RTX, and the number of PC gamers worldwide grew significantly over the last year. Cloud gaming is also now a growth driver for gaming GPUs. Our challenge is that RTX demand "is so much greater than supply."
5:30 PM ET: First question is about Nvidia's Data Center growth expectations. Also one about Nvidia's enterprise AI software opportunity.
Jensen Huang: Data Center demand was strong last quarter across hyperscalers, enterprise and industrial. The A100 is "a universal GPU" for AI, handling both training and inference, which lowers deployment costs. 
Regarding enterprise AI, Huang highlights the breadth of Nvidia's offerings, including edge AI offerings and solutions for development and large-scale deployment. Argues there's an addressable market of tens of millions of servers.
5:22 PM ET: The Q&A session is starting.
5:21 PM ET: FQ2 gross margin benefited from higher gaming GPU ASPs/greater high-end gaming GPU demand, while a mix shift within the Data Center segment was a headwind.
Regarding FQ3, Kress says Data Center will be the quarter's biggest sequential growth driver, while adding Nvidia also expects growth in its three other segments. Reiterates that CMP revenue is expected to be minimal.
5:19 PM ET: Regarding ARM, Kress says Nvidia "remains confident" in the deal, in spite of talks with regulators taking longer than expected.
5:17 PM ET: Kress says Nvidia is seeing strong early momentum for its Fleet Command enterprise AI software platform, with major wins landed in a number of verticals.
She also notes the total number of developers in Nvidia's ecosystem now exceeds 2.6M.
5:13 PM ET: Kress says Data Center segment sales to hyperscalers and "vertical industries" (traditional enterprises) both hit records. Also notes inference-related sales more than doubled Y/Y, aided by the recent launch of Nvidia's A30 server GPU.
5:11 PM ET: Regarding Auto segment revenue, Kress notes infotainment SoC revenue fell Q/Q, offset by self-driving product sales. She reiterates Nvidia's design wins for its Drive platform will fuel strong growth in the future.
5:09 PM ET: Nvidia has added to its AH gains in response to Kress' CMP GPU comments. Shares are now up 2.3% to $194.68.
5:09 PM ET: Regarding FQ2's strong Pro Viz sales, Kress says the growth was driven by desktop workstation GPUs. She also notes FQ2 was the first major quarter for the segment's Ampere ramp.
TheStreet RecommendsPRESS RELEASESCirculating Tumor Cells Market Size Worth $18.3 Billion By 2027: Grand View Research, Inc.20 minutes agoPRESS RELEASESLSE Joins Hedera Governing Council To Advance Blockchain Research For Social Good25 minutes agoPRESS RELEASESSUSE Boosts Its AWS Marketplace Offerings With Professional Services25 minutes ago
5:07 PM ET: Notably, Kress says Nvidia expects "a minimal contribution" from CMP GPUs going forward.
5:05 PM ET: Kress: Laptop GPU demand was very strong. Only 20% of our gaming GPU base has upgraded to RTX GPUs.
5:03 PM ET: Kress is talking. She notes Gaming demand remains "exceptionally strong" and continues outpacing supply.
5:02 PM ET: IR chief Simona Jankowski is going over Nvidia's safe-harbor statement. Nvidia's call typically features prepared remarks from CFO Colette Kress, after which Kress and CEO Jensen Huang take questions from analysts.
5:00 PM ET: Nvidia's call is starting. Here's the webcast link, for those looking to tune in.
4:59 PM ET: Nvidia's FQ2 revenue by segment and market platform. Gaming was 47% of revenue, while Data Center was 36%.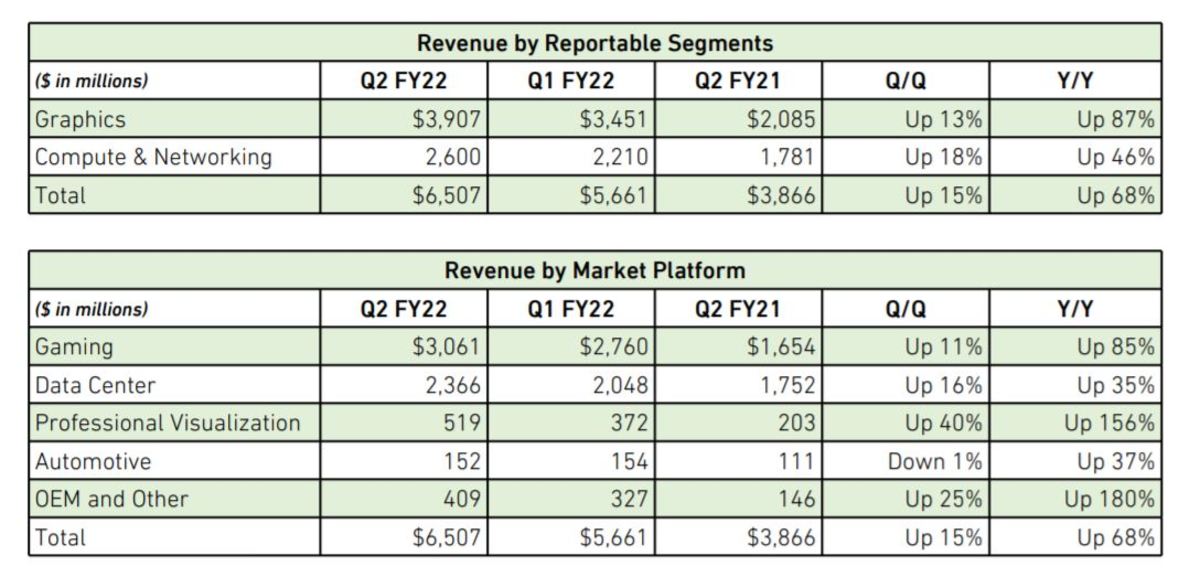 4:57 PM ET: FQ2 free cash flow was $2.48B, up from $1.56B in FQ1 and $1.35B a year ago.
That helped Nvidia exit the quarter with $19.7B in cash, partly offset by $11.9B in debt.
4:53 PM ET: For the second quarter in a row, Nvidia's inventory purchase and long-term supply obligations rose sharply. They totaled $4.79B at quarter's end, up from $3.46B three months earlier and $2.04B a year earlier.
Nvidia attributes the growth to "longer lead-times throughout the supply chain and long-term capacity obligations."
4:49 PM ET: Nvidia's non-GAAP operating expenses rose 6% Q/Q and 22% Y/Y to $1.27B, close to guidance of $1.26B. GAAP opex rose 6% Q/Q and 9% Y/Y to $1.78B.
For FQ3, Nvidia sees GAAP opex rising to $1.96B and non-GAAP opex rising to $1.37B. 
4:48 PM ET: Nvidia is now up 1.6% after hours to $193.43. The fact that FQ2 beat was purely driven by Gaming, Data Center and Pro Viz, with CMP sales actually falling short of May guidance of $400M, seems to be going over well.
4:45 PM ET: Weighing on FQ2 EPS a bit: Nvidia's non-GAAP tax rate was 13.2%, up from FQ1's 7.9% and above guidance of 9%-11%.
For FQ3, Nvidia is guiding for GAAP and non-GAAP tax rates of 10%-12%.
4:42 PM ET: Nvidia on the ARM deal:
"We are working through the regulatory process for our pending acquisition of Arm Ltd. Although some Arm licensees have expressed concerns or objected to the transaction, and discussions with regulators are taking longer than initially thought, we are confident in the deal and that regulators should recognize the benefits of the acquisition to Arm, its licensees, and the industry."
4:41 PM ET: Regarding its Data Center segment, Nvidia notes both sales of compute products (GPUs/servers) and networking products (Mellanox) rose Q/Q, with sales to hyperscalers leading the way.
4:38 PM ET: Nvidia's non-GAAP gross margin was 66.7% — up from 66.2% in FQ1 and 66% a year ago, and slightly above guidance of 66.5%. GAAP GM was 64.8%.
For FQ3, Nvidia is guiding for a non-GAAP GM of 67% and a GAAP GM of 65.2%.
4:36 PM ET: Also: Nvidia says in its CFO commentary that over 80% of the quarter's Ampere-architecture gaming GPU sales involved GPUs featuring Ethereum hash-rate limiters.
4:33 PM ET: Markets are likely pleased that CMP sales had nothing to do with Nvidia's revenue beat, given worries about the sustainability of crypto-related demand. Shares are now close to unchanged after hours.
4:31 PM ET: Of note: The "OEM and Other" segment, which among things covers non-gaming PC GPUs, posted revenue of $409M. That's up 25% Q/Q and 180% Y/Y, but below a $463M consensus.
Nvidia adds that sales of its CMP GPUs, which target crypto miners, accounted for $266M of this total. This compares with FQ1 CMP revenue of $155M.
4:27 PM ET: The Professional Visualization segment, which covers workstation GPUs and other offerings for visual creators, saw revenue grow 40% Q/Q and 156% Y/Y to $519M. That soundly beat a $364M consensus.
Automotive revenue came in at $152M — down 1% Q/Q, up 37% Y/Y and below a $164M consensus.
4:24 PM ET: Gaming segment revenue rose 11% Q/Q and 85% Y/Y in FQ2 to $3.06B, topping a $2.98B consensus.
Data Center segment revenue rose 16% Q/Q and 35% Y/Y to $2.37B, topping a $2.27B consensus.
4:22 PM ET: Shares are down 1.9% after hours.
4:21 PM ET: Nvidia is guiding for FQ3 revenue of $6.8B, plus or minus 2%. That's above a $6.57B consensus.
4:21 PM ET: Results are out. Revenue of $6.51B beats a $6.33B consensus. Non-GAAP EPS of $1.04 beats a $1.02 consensus. 
4:15 PM ET: Still waiting for the FQ2 report to hit the wires. If history is any guide, it'll be out in about 5 minutes.
4:11 PM ET: Along with its numbers, any commentary Nvidia shares about the pending ARM deal will be closely watched. In May, Nvidia said it still expects the deal, which is facing a lot of regulatory scrutiny, to close by early 2022.
4:03 PM PT: With gaming GPU demand still outstripping supply and Internet/cloud giants (the proverbial hyperscalers) aggressively buying Nvidia GPUs to support AI-related workloads, it's safe to say that expectations are high for multiple Nvidia businesses.
The consensus for Nvidia's Gaming segment, which covers gaming GPU and game console SoC sales, is for revenue to grow 80% Y/Y to $2.98B.
The consensus for the Data Center segment, which covers server GPUs, DGX servers and Mellanox, is for revenue to grow 30% to $2.27B, in spite of very strong year-ago growth.
3:56 PM ET: Nvidia's report has usually been posted at 4:20 PM ET. The company also typically shares CFO commentary on its website that provides more details about its quarterly performance.
3:53 PM ET: Nvidia's stock is down 1.9% today heading into its report. But it's still up 47% YTD — gains that leave the company sporting a $481B market cap.
3:51 PM ET: For fiscal Q3, the revenue consensus is at $6.57B (+39%).
3:50 PM ET: The FactSet consensus is for Nvidia to post July quarter (fiscal Q2) revenue of $6.33B (+64% Y/Y), GAAP EPS of $0.83 and non-GAAP EPS of $1.02.
3:47 PM ET: Hi. I'm live-blogging Nvidia's earnings report and call.