With renewed interest once again flowing back to Reddit's meme stocks, Naked Brands (NASDAQ:NAKD) stock may be worth a second look.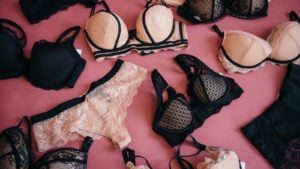 Source: NazarBazar/Shutterstock.com
Currently, NAKD stock seems to have found a solid support level at the 50-cent price range. The stock has tried to move upward the past few weeks yet has met sufficient resistance every time.
The last Reddit-fueled rally in June brought the stock from 50 cents to a high of $1 in a matter of days. Trading speculative small-cap stocks like NAKD can come with its own set of rewards. There is continued enthusiasm for the stock in the forums. The r/WallStreetBets mantra is "diamond hands" so it can be surmised that they aren't selling NAKD stock into weakness.
This should form an accumulation base for NAKD stock to move higher.
The market could see another round of Reddit-fueled meme stock rally for GameStop (NYSE:GME) and AMC Entertainment (NYSE:AMC). If that's the case, NAKD stock could be swept up once again by that same tide. Furthermore, there are a few important developments upcoming for Naked Brands that could serve as a catalyst for this rally.
NAKD Stock Isn't Overvalued
Meme stocks may drive the typical value investor crazy as they trade well above their fair market value. However, I'd make the argument that Naked Brands isn't insanely expensive from a value perspective. NAKD stock currently has a market cap of about $521 million. After the divestiture of the brick-and-mortar operations of Bendon and multiple capital financings, Naked Brands has a net cash position of $270 million. The company currently has no debt having repaid its previous obligations.
7 of the Best Large-Cap Stocks to Buy Now
In other words, NAKD stock is worth at least 34.5 cents. At its recent price of 67 cents, NAKD is traded at a price-cash ratio of 1.9x.
Furthermore, this doesn't even take into account the company's existing assets. Naked Brands have a licensing agreement with Authentic Brands Group for the Frederick's of Hollywood brand of lingerie and undergarments. In 2020, Naked Brands earned revenues of roughly $56 million. While the company isn't profitable, the fact that it has revenues means that there are potential synergies with any company it may acquire. In my opinion, NAKD stock should not fall below 40 cents to 50 cents.
Potential Acquisition a Catalyst for Move Up
I believe that judging Naked Brands solely on its existing business is not the right approach for evaluating its potential. NAKD shares rose by 10.1% after the company announced that it has reached a preliminary agreement with a merger or acquisition partner.
CEO Justin Davis-Rice tweeted: "The company is in a sector which has been forecast to have strong growth for many decades to come."
The thing is that although the current iteration of Naked Brands is an e-commerce lingerie company, management isn't necessarily limited by this. In other words, the acquisition target could be another e-commerce company not focused on apparel. It may not even be an e-commerce company at all. The fact that management has been coy on the sector of the target says many things about how they are thinking. There is a multitude of M&A opportunities that Naked Brands could capitalize on.
Investor Takeaway
Investing in NAKD stock certainly isn't for the faint of heart. There are still a lot of risks with the company presently. Naked Brands has a lot of execution risk with regard to making sure it closes a good deal. Despite the investor's attention, management must resist making an acquisition just for the sake of making a deal. There is also the execution risk of actually being able to pivot the entire business into this new model that they envisioned.
But with anything, a lot of risks come with great rewards. NAKD stock has a lot of potential upside should management be able to successfully execute.
On Penny Stocks and Low-Volume Stocks: With only the rarest exceptions, InvestorPlace does not publish commentary about companies that have a market cap of less than $100 million or trade less than 100,000 shares each day. That's because these "penny stocks" are frequently the playground for scam artists and market manipulators. If we ever do publish commentary on a low-volume stock that may be affected by our commentary, we demand that InvestorPlace.com's writers disclose this fact and warn readers of the risks.
Read More: Penny Stocks — How to Profit Without Getting Scammed
On the date of publication, Joseph Nograles held a LONG position in GME. The opinions expressed in this article are those of the writer, subject to the InvestorPlace.com Publishing Guidelines.