tags:
As recent news has sent it zooming again, should you buy Naked Brand (NASDAQ:NAKD) stock? It depends. If you prefer to invest based on the fundamentals, like I do, you may still want to stay away. There's now an even heavier meme stock premium priced into this intimate apparel e-commerce play.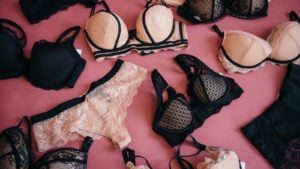 Source: NazarBazar/Shutterstock.com
If you believe that, even after rallying following the merger deal teased by the company on Aug 20, shares could soar even higher, you may want to buy NAKD stock. The meme stock community is buzzing about it once again.
While the buzz may not be enough to send it back to its 52-week high of $3.40 per share. But it could be enough to move it well above today's prices of about 66 cents.
That being said, this emerging M&A catalyst is not without its risks. Even if traders buy more on the headlines than on the details, what if the deal is a dud? Disappointment could send Naked back to where it was before the recent spike, around 50 cents per share.
Worse yet, what if this recent news release truly is just a tease and the deal falls through? That could push Naked Brands stock below 50 cents.
Depending on your investing/trading style, you may find this to be a worthwhile opportunity. Just keep in mind downside risk may be higher than it looks.
NAKD Stock and Its Recent Deal News
Until more information comes out, speculation surrounding Naked Brands is what's going to be top of mind. What does this mean in terms of the stock's next price movement?
It's possible NAKD stock holds steady at current levels, only moving once the deal news comes out. It's also possible that buzz around this stock on Reddit's r/WallStreetBets subreddit and other platforms continues to rise, and more meme traders buy in anticipation of another pop.
7 Healthcare Stocks to Buy Before $3.5 Trillion Floods In
That's an outcome the company likely wants to happen. In order for the company to maintain its listing on the Nasdaq exchange, it needs to get its stock price back above $1 per share for 10 consecutive trading days. Otherwise, it'll get delisted, and trading in its shares will move to the over-the-counter (OTC) market.
Sure, it could maintain Nasdaq compliance in other ways, such as doing a reverse stock split. Even so, getting a helping hand from the Reddit trader army could be an easier option. In short, there may be plenty in motion to help shares continue to trend higher in the coming weeks. But if you plan on buying it for this reason, keep in mind the risks of holding it through the next bit of deal news.
2 Ways Naked Brands Could Drop
Renewed buzz could help sustain the recent NAKD stock rally, between now and when more details on the possible merger deal emerge. Depending on how much meme stock trader it garners, a triple-digit percentage move higher may not be out of the question.
Trading around it while news on the deal is still scant could be profitable, however holding it until further details emerge could be risky. Why? There's two ways this stock could drop after its recent pop.
First, a deal could get done, but it ends up being less of a game changer than the Australia-based company hyped it up as in its 6-K (foreign issuer) filing with the Securities and Exchange Commission. Disappointment in its selection of a merger partner could cause it to give up all of its recent gains, and end up back at square one.
Second, it's also possible that this deal does not get past the preliminary stage. If the deal fails to go through? Those who dived in on the merger hype could quickly dump the stock. This could mean a move to prices even lower to where it was before this catalyst came about.
Tread Carefully
Once Naked Brand's possible deal moves to the definitive stage, and its merger target is revealed, I may change my view on Naked Brand. For now, though, I still see it as a long-shot turnaround play. Nevertheless, if you want a high-risk, high-possible return trade, this may be up your alley.
NAKD stock could continue to trend higher, between now and when it releases an update on its M&A deal. Just tread carefully, as it's still anything but a sure thing.
On Penny Stocks and Low-Volume Stocks: With only the rarest exceptions, InvestorPlace does not publish commentary about companies that have a market cap of less than $100 million or trade less than 100,000 shares each day. That's because these "penny stocks" are frequently the playground for scam artists and market manipulators. If we ever do publish commentary on a low-volume stock that may be affected by our commentary, we demand that InvestorPlace.com's writers disclose this fact and warn readers of the risks.
Read More: Penny Stocks — How to Profit Without Getting Scammed
On the date of publication, Thomas Niel did not have (either directly or indirectly) any positions in the securities mentioned in this article. The opinions expressed in this article are those of the writer, subject to the InvestorPlace.com Publishing Guidelines.
Thomas Niel, contributor for InvestorPlace.com, has been writing single-stock analysis for web-based publications since 2016.