tags:
Mondelez International, Inc. (MDLZ Quick QuoteMDLZ ) has been focused on expanding its business through prudent partnerships and acquisitions. Moving on these lines, the company has teamed up with MissFresh to introduce Oreo Zero on the latter's popular online retail platform. This new range of sugar-free sandwich cookies is likely to cater online customers of China well in the face of consumers' growing health consciousness as part of which they are reducing sugar intake.
The launch of OREO's sugar-free Oreo Zero line on MissFresh is likely to be beneficial, thanks to Miss Fresh's fast and renowned grocery delivery service and solid customer base. This partnership is likely to strengthen ties between Mondelez and MissFresh, which have been working together for a number of years now. Notably, MissFresh keeps Mondelez's renowned brands such as OREP and Chips Ahoy! MissFresh has also undertaken efforts to promote Mondelez's products, thereby solidifying its marketing ties with the latter.
The above-mentioned launch of Oreo Zero on MissFresh is likely to add another leaf to Mondelez's expansion story and bolster its presence in China.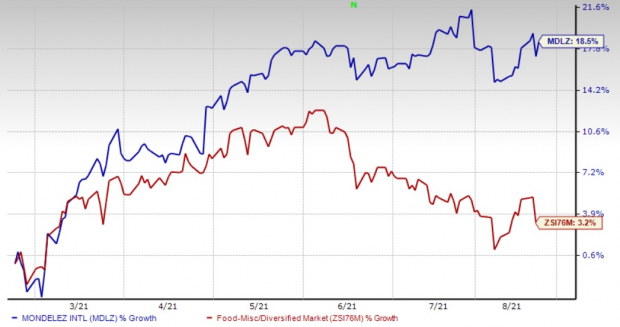 Image Source: Zacks Investment Research
Solid Emerging Market Trends
Mondelez has been boosting its presence in the emerging markets, as evident from the addition of 60,000 and 20,000 respective stores in China and India in the second quarter of 2021. During the quarter, revenues from emerging markets increased 19.6% to $2,293 million, while the same jumped 16.5% on an organic basis. The company saw double-digit growth in India, Brazil, Mexico and Russia, as well as a high-single-digit improvement in China. Management is encouraged by the underlying emerging market strength.
Focus on Expansion
Mondelez has always been keen on expanding its business through acquisitions and alliances. Recently, the company announced a deal to buy Chipita S.A., which is a major producer of sweet and salty snacks in Central and Eastern Europe. Mondelez anticipates this acquisition to boost its earnings per share immediately from the closing date. Mondelez's other acquisitions in 2021 include Grenade, Gourmet Food Holdings as well as Hu Master Holdings. Hu, Grenade and Gourmet Food buyouts contributed to the company's top-line growth in the second quarter.
Earlier, the company acquired majority interest in Give & Go (in April 2020), which is a pioneer in fully-finished sweet baked goods. In previous developments, the company made initial investments in Uplift Foods (in March 2019) as part of the SnackFutures platform. In July 2019, it acquired majority stakes in Perfect Snacks. Also, in January 2018, the company teamed up with Post Consumer Brands, a business unit of Post Holdings, to create two new cookie-inspired breakfast cereals. Mondelez's focus on undertaking acquisitions to gain scale in its categories and distribution capabilities bode well.
We believe that Mondelez's constant expansion endeavors are likely to help it keep its growth story going. The Zacks Rank #3 (Hold) stock has rallied 18.5%, in the past six months, compared with the industry's growth of 3.2%.
Some Solid Food Bets
Medifast (MED Quick QuoteMED ) , currently sporting a Zacks Rank #1 (Strong Buy), has a trailing four-quarter earnings surprise of about 16%, on average. You can see the complete list of today's Zacks #1 Rank stocks here.
J&J Snack Foods (JJSF Quick QuoteJJSF ) carries a Zacks Rank #2 (Buy), at present, and its bottom line outpaced the Zacks Consensus Estimate by a wide margin in the preceding four quarters, on average.
Pilgrim's Pride (PPC Quick QuotePPC ) , currently carrying a Zacks Rank #2, has a trailing four-quarter earnings surprise of nearly 34%, on average.