tags:
The U.S. housing industry is well poised for the rest of 2021 as the market is responding well despite inventory crunch and a rise in raw material prices. The rising need for more work-at-home space and historically low borrowing costs has been driving the industry in recent times.
Per the latest data released by the Commerce Department on Aug 2, spending on construction activity inched up 0.1% in June from May's revised reading. On a year-over-year basis, the metric increased 8.2%, after declining 0.2% in May. Residential construction spending grew 1.1% from a month ago. The upside was mainly attributable to increased spending on private projects like new single-family homes (up 1.8% from previous month).
The latest construction spending data encourages the Zacks Building Products – Home Builders industry bellwethers like M.D.C. Holdings, Inc. (MDC Quick QuoteMDC ) , Taylor Morrison Home Corporation (TMHC Quick QuoteTMHC ) , Lennar Corporation (LEN Quick QuoteLEN ) and KB Home (KBH Quick QuoteKBH ) .
Based on various parameters, let's check out whether MDC or Taylor Morrison is more appealing to investors. It is to be noted that both the companies are almost neck to neck in terms of market cap and carry a Zacks Rank #3 (Hold). You can see the complete list of today's Zacks #1 Rank (Strong Buy) stocks here.
Determinants of the Stocks
MDC — having a market cap of $3.58 billion — engages in building and selling single-family detached homes for first-time and move-up buyers under the name "Richmond American Homes". The company's Build-to-Order process, also known as "dirt sales", provides buyers with a wide range of choices in major aspects of their future home and personalized customer experience through in-house community teams. MDC's Financial Services operations offer mortgage loans, insurance coverage, and title agency services to its subsidiaries as well as customers in the United States.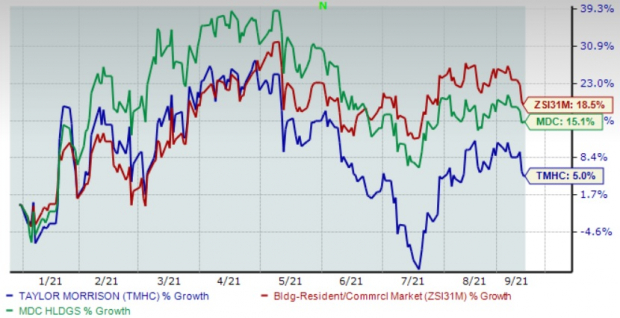 Image Source: Zacks Investment Research
Conversely, Taylor Morrison — with a market cap of $3.37 billion — offers a diverse assortment of homes across a wide range of price points for entry-level, move-up, luxury and active adult buyers. The company designs, builds, and sells single and multi-family attached and detached homes. It operates under Taylor Morrison, Darling Homes and William Lyon Signature brands. The company has been benefiting from strategic initiatives like acquisitions to boost market reach and profitability, and building homes on a spec basis.
Strong Brand Presence & Customer Spectrum
Although MDC is a slightly bigger company than Taylor Morrison in terms of market cap, the latter has a large spectrum of customers as it serves luxury and active adults along with entry-level and move-up buyers. Also, Taylor Morrison's homebuilding segments operate under three big brand names. In contrast, MDC offers detached homes under the Richmond American Homes brand.
That said, both the companies' customer-centric approach, and investment in land acquisition and development are encouraging.
Prospects & Stock Performance
Despite higher material and labor costs as well as supply chain disruptions over the past several months, the industry has been enjoying solid demand. Depending on the ability to yield higher profits amid headwinds, both the companies are expected to generate higher earnings.
For MDC, the Zacks Consensus Estimate for 2021 earnings is expected to grow 65.6% year over year. Taylor Morrison's bottom line for the year is likely to improve a whopping 173.4%. Nonetheless, both Taylor Morrison and MDC have a VGM Score of A.
Shares of MDC have gained 15.1% in the year-to-date period compared with Taylor Morrison's 5% growth. Both the stocks have underperformed the industry's 18.5% growth in the same period.
In terms of earnings growth expectation, Taylor Morrison is a clear winner. However, per price movement, MDC is a winner. Impressively, both of them have a solid VGM score.
A Look at Stocks' Profitability & Valuation
Return on Equity in the trailing 12 months for MDC is 23.6% compared with Taylor Morrison and the industry's 13% and 16.8%, respectively. Markedly, MDC provides impressive returns to investors than Taylor Morrison and the industry.
The trailing 12-month price-to-earnings multiple for MDC and Taylor Morrison is 7.22 and 7.52, respectively, compared with 9.1 for the industry. Taylor Morrison's shares are a bit costlier than MDC and the industry.
Our Take
MDC certainly has an edge over Taylor Morrison in terms of stock performance, return and valuation. Nonetheless, both the companies remain optimistic about overall homebuilding growth trends, given solid demand for homes, offsetting supply-side woes.