tags:
LHC Group, Inc. (LHCG Quick QuoteLHCG ) recently inked a deal to acquire Brookdale Health Care Services agencies from the newly-formed home health, hospice and outpatient therapy venture between HCA Healthcare (HCA Quick QuoteHCA ) and Brookdale Senior Living Inc.
The transaction is expected to be completed in the fourth quarter of 2021, upon fulfillment of customary conditions. The buyout denotes LHC Group's first entry into two new states, namely Minnesota and New Mexico and also extends its services in the states where it already operates.
The agencies that do not come under the areas served by HCA Healthcare comprise 23 home health locations, 11 hospices and 13 therapy agencies throughout 22 states. These agencies will continue to function under their existing brands and locations.
This transaction is likely to provide a substantial boost to the company's home health and hospice business lines.
Significance of the Acquisition
The buyout is likely to add resources and service capabilities apart from substantial expansions to LHC Group's nationwide presence. Per management, the deal enables LHC Group to positively impact more lives by providing quality healthcare with the help of the team at Brookdale Health Care Services.
It is important to mention here that LHC Group anticipates annualized revenues of around $146 million from this buyout. However, the deal will not materially impact its 2021 earnings per share (given the timing of the completion of the buyout).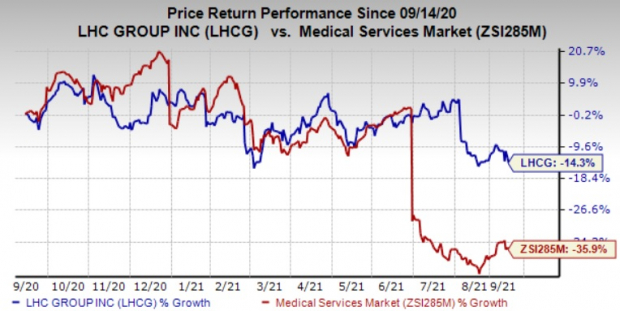 Image Source: Zacks Investment Research
Taking this acquisition into account, LHC Group has now acquired or announced $308 million worth mergers and acquisitions on a year-to-date basis.
Market Prospects
Per a Market Data Forecast report, the global hospice market size is projected to see a CAGR of 9.1% between 2021 and 2026. This apart, according to a Grand View Research article, the global home healthcare market was worth $281.8 billion in 2019 and is estimated to see a CAGR of 7.9% during the forecast period (2020-2027). Hence, this buyout comes at an opportune time for LHC Group.
Recent Developments
In September, LHC Group completed its previously announced (Jun 2, 2021) deal to acquire Heart of Hospice from EPI Group, LLC, which is a Charleston, SC-based family-owned holding company. The buyout will allow LHC Group to expand its hospice footprint in five states. The transaction comprises 16 hospice agencies in Arkansas, Louisiana, Mississippi, Oklahoma and South Carolina.
In August, the company finalized the previously agreed buyouts of three home health, hospice and palliative care providers in Virginia, Indiana and Arkansas.
In July, LHC Group formed a strategic partnership with SCP Health to jointly develop and deliver advanced clinical care services at home. The partnership will provide a comprehensive offering of in-home healthcare services including skilled nursing facility (SNF)-at-home and hospital-at-home programs to the existing as well as new hospital and health system partners to meet increasing demand for value-based care models and at-home care solutions.
Price Performance
Shares of this presently Zacks Rank #3 (Hold) company have lost 14.3% in a year's time compared with the industry's decline of 35.9%.
Key Picks
Two better-ranked stocks from the broader medical space are Henry Schein, Inc. (HSIC Quick QuoteHSIC ) and Envista Holdings Corporation (NVST Quick QuoteNVST ) , both currently carrying a Zacks Rank #2 (Buy). You can see the complete list of today's Zacks #1 (Strong Buy) Rank stocks here.
Henry Schein's long-term earnings growth rate is estimated at 13.9%.
Envista Holdings' long-term earnings growth rate is estimated at 27.4%.