tags:
Jacobs Engineering Group Inc. (J Quick QuoteJ ) has secured a contract from Abu Dhabi's Department of Energy for project management of a wastewater laboratory. With this, it will incorporate digital tools for the well-being of the communities.
This two-year contract entails supervising project execution, and the lab's design, engineering, procurement as well as construction by Jacobs. The company has expertise in wastewater-based epidemiology at treatment plants.
The Wastewater Monitoring Laboratory is expected to be operational by 2022 and will play a primary role in developing a top-notch facility for improving the health of the residents of a major city. Authorities will employ real-time information to evaluate the prevalence of infectious diseases, thereby preventing the spread of the same.
In this regard, Jacobs People & Places Solutions EVP and president Patrick Hill said, "This project will help empower public health officials and the Abu Dhabi community by using evidence-based tools, like artificial intelligence, to screen wastewater for pathogens, pollutants and other indicators of human health."
People & Places Solutions Unit: A Major Growth Driver
People & Places Solutions or P&PS segment — which serves clients of broad sectors like water, transportation, building, and semiconductors — accounts for more than 63% of the company's total revenues.
The segment's prospects look good, as is evident from its solid backlog level. P&PS backlog was up 6.5% year over year at fiscal third quarter-end to $15.56 billion. The segment's overall sales pipeline has been rising, as both life sciences and electronics customers have moved forward with the previously paused projects.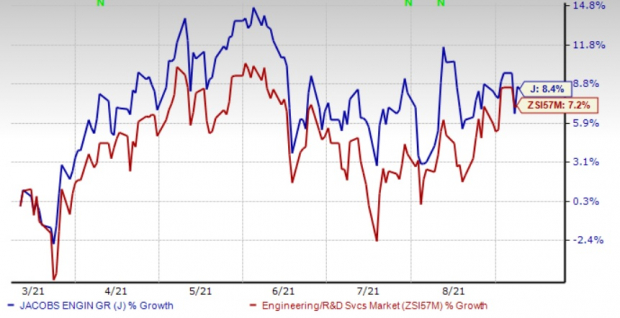 Image Source: Zacks Investment Research
Shares of Jacobs have outperformed the Zacks Engineering – R and D Services industry over the past six months. It has been benefiting from an increased focus on backlog, acquisitions and efforts to focus on high-value business. The company has shifted its focus to digital and leadership in strategic end markets that include space exploration, life sciences, cyber as well as water solutions.
Overall, the share price of Jacobs should continue to maintain positive momentum in the near term, as the company's solutions are closely aligned with president Biden's policies and industry trends. Jacobs is also expected to benefit from strong global trends in infrastructure modernization, energy transition, national security and a potential super-cycle in global supply chain investments.
The Zacks Consensus Estimate for the Zacks Rank #3 (Hold) company's fiscal 2021 earnings indicates a 13.1% increase from fiscal 2020. You can see the complete list of today's Zacks #1 Rank (Strong Buy) stocks here.
Key Picks
Some better-ranked stocks in the same industry include Altair Engineering Inc. (ALTR Quick QuoteALTR ) , Gates Industrial Corporation PLC (GTES Quick QuoteGTES ) and KBR, Inc. (KBR Quick QuoteKBR ) , each carrying a Zacks Rank #2 (Buy).
Altair, Gates Industrial, and KBR's earnings for 2021 are expected to rise 64.5%, 94.3%, and 24.9%, respectively.