tags:
Zomedica Corp (NYSEAMERICAN:ZOM) is one of the big meme stocks of 2021. Retail investors chatting up ZOM stock on Reddit's r/WallStreetBets forum have been a big part of this stock's story, which includes an over 1,000% run in the first six weeks of the year. That's enough to send many serious investors scurrying. However, this is a meme stock that deserves a second look.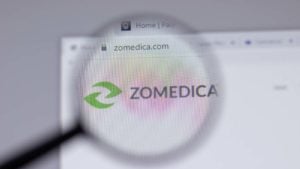 Source: Postmodern Studio / Shutterstock.com
Currently trading at 56 cents a share, it's down 79% from an early February peak. More importantly — unlike too many meme stocks — Zomedica isn't a has-been.
On the contrary, Zomedica is a relatively new company (founded in 2013, publicly traded since 2016). With a focus on veterinary medicine, Zomedica has a compelling new diagnostic testing system for vet offices called TRUFORMA. It just went into commercial production this spring.
In other words, we have a penny stock that has real potential to deliver long-term growth as Zomedica's sales of TRUFORMA ramp up. There are two issues, though. The company must overcome a rocky start to TRUFORMA sales. And potential investors need to be prepared for additional meme stock volatility.
TRUFORMA Aimed At a Specialized But Significant Market
Zomedica's TRUFORMA is an on-site veterinary diagnostic system. It allows vets to perform tests in their office instead of having to send samples to a lab and wait for results. The company is offering immunoassays for both dogs and cats. TRUFORMA is compact (weighing about seven pounds), it requires minimal training to use, and it uses sealed, disposable cartridges.
A quick check on vet websites shows that diagnostic results can take a few days to a week for a lab to process. Pet owners want results more quickly, and TRUFORMA would give vets that capability for many tests.
The global market for veterinary diagnostic services isn't huge, but is large enough to offer potential. It's also growing, from an estimated $2.5 billion in 2021 to a projected $3.9 billion in 2026.
Q2 Earnings Report Reveals Supplier Challenges
In 2020, Zomedica had no revenue because TRUFORMA was still in the development stage. That's understandable.
Then in March, a key milestone was achieved: the first commercial sale of a TRUFORMA system. Instead of pushing up ZOM stock, the news actually had the opposite effect. ZOM tumbled, then slid 60% over the next month. Perhaps the news of a single sale was a letdown after all the pumping up of Zomedica on Reddit.
On August 11, the company reported its second-quarter earnings. Zomedica earned $15,693 during the quarter, for a net loss of $4.7 million.
Zomedica revealed that there was a problem with the supplier responsible for producing test assays. Lack of availability of the cartridges makes selling the equipment challenging. The company noted that market acceptance of the TRUFORMA system had been "adversely impacted by delays" in those assays.
The issues are expected to be resolved by the end of 2021, but in the meantime Zomedica is paying for an expanded sales organization that is largely spinning its wheels.
The Saving Grace: Still Plenty of Cash on Hand
At this point, Zomedica is not impressing with its ability to execute. The continued bleeding of cash — including Q2's net loss of $4.7 million — isn't helping the picture. What does make the Zomedica story slightly better is the company's significant cash stockpile. As of June 30, the company reported $276.2 million in cash and cash equivalents. That gives it a considerable runway to get supplier issues resolved and TRUFORMA sales humming.
The downside to that cash on hand is that Zomedica raised a chunk of it by selling additional shares. Doing so had a diluting effect for existing shareholders and helped to trigger a month-long slump in ZOM stock.
Bottom Line on ZOM Stock
ZOM stock is not without risk. Far from it. Zomedica needs to make sales. With the release of TRUFORMA, albeit with the delays in releasing assays, sales need to pickup quickly. However, with over $276 in cash, Zomedica should have sufficient cash on hand to get through the rough patch. There will likely be ongoing volatility because of its meme stock status. As August wound down, there was a rally followed by a 9% drop in ZOM stock that was a direct result of investors pumping up the stock on social media.
Is this Portfolio Grader "B" rated stock worth taking a risk on? If Zomedica is able to get past its current supplier-related challenges, TRUFORMA has the potential to take a chunk of the $2.5 billion (and growing) veterinary diagnostics market. Once the company starts getting TRUFORMA systems into vet offices, the revenue spigot from selling assays for the system is turned on. And that becomes a recipe for long-term growth.
On the date of publication, neither Louis Navellier nor the InvestorPlace Research Staff member primarily responsible for this article held (either directly or indirectly) any positions in the securities mentioned in this article.
Louis Navellier, who has been called "one of the most important money managers of our time," has broken the silence in this shocking "tell all" video… exposing one of the most shocking events in our country's history… and the one move every American needs to make today.