tags:
American International Group Inc. (AIG Quick QuoteAIG ) looks poised for growth on the back of a strong economy and business revival. A very important savior of businesses is insurance, which provides a shield from losses that may occur while carrying out various business activities. The company being a leading general insurer is poised to gain from this positive economic scenario.
According to the Insurance Information Institute, AIG ranked fifth on the basis of 2020 direct premiums written, the first and the second spot being grabbed by Chubb Ltd. (CB Quick QuoteCB ) and Travelers Companies Inc. (TRV Quick QuoteTRV ) , respectively. Berkshire Hathaway Inc. (BRK.B Quick QuoteBRK.B ) closely follows AIG in the ranking order. For the uninitiated, Commercial lines are the lines of insurance covering businesses, rather than properties belonging to an individual
Investors' bullish sentiment surrounding the stock drove it to a 52-week high of $54.96 on Aug 17. Over the past year, the stock has gained 82.5% compared with its industry's growth of 33.5%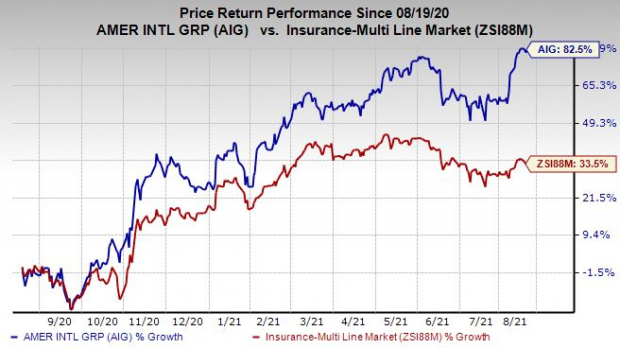 Image Source: Zacks Investment Research
The second-quarter 2021 earnings performance, which trumped estimates by 27.7%, cheered investors. Results also marked the second straight quarter of earnings beat.
Analysts are also sanguine about the stock's prospects, evidenced by an upward revision in Zacks Consensus Estimate for 2021 and 2022 earnings by 2.3% and 0.7%, respectively, over the past seven days.
The insurer's recent performance is reflective of the improvements made in its property/casualty operations since 2017. In the first half of 2021, revenues grew 5.4% versus a decline of 12% in the comparable period of 2020.
The company navigated a choppy operating environment with revenues dwindling every year since 2013 (except in 2019) due to low insurance rates, a fiercely competitive landscape and several asset divestitures that shrank its revenue sources.
It was weighed down by its numerous uncorrelated businesses, which produced little or no synergies. To shed non-core businesses was the primary strategy implemented by the company to make its operations more focused. Other operational improvements taken since 2017 under the tenure of the then CEO Brian Dupperault are now producing results.
This year, the company should gain traction from a better insurance premium rate in a hardening market. Its AIG 200 initiative, which is designed to revamp and improve core processes, technology infrastructure and services should lead to cost savings over time. This, in turn, will boost premiums and underwriting gains.
The company is also divesting its Life and Retirement business via an IPO. Though this strategic move will erode the diversification benefits, management believes that it is "the optimal path forward".
We believe, these prudent efforts will fuel growth ahead. With its current price-to-book value of 0.72 compared with the industry average of 1.58, the stock seems favorably priced and a good buy. It currently has a Zacks Rank #2 (Buy). You can see the complete list of today's Zacks #1 Rank (Strong Buy) stocks here.