tags:
HOOKIPA (HOOK Quick QuoteHOOK ) announced that it has entered into a clinical collaboration and supply agreement with Merck (MRK Quick QuoteMRK ) to evaluate the former's novel arenaviral program, HB-200, in combination with the latter's PD-L1 inhibitor Keytruda as a first-line treatment for advanced head and neck squamous cell carcinoma ("HNSCC").
The collaboration between the two companies is based on positive data from the ongoing HB-200 phase I/IIstudy evaluating the HB-200 program for the treatment of human papillomavirus 16-positive ("HPV16+") cancers in heavily pre-treated patients. Data from the phase I study demonstrated that the HB-200 therapy has a favorable safety profile, both as a monotherapy and in combination with other checkpoint inhibitors.
Earlier this year, HOOPIKA also presented data from the ongoing HB-200 phase I/IIstudy at ASCO 2021. Data from the study demonstrated that HB-201 achieved an overall response rate of 18% in heavily pre-treated patients, while data from pre-clinical studies indicated that the HB-201/HB-202 therapy achieved a disease control rate of 100%.
A phase II study evaluating a combination of HB-200 and Keytruda in HNSCC is expected to begin in 2022. The company is also planning to start additional phase II expansion cohorts in first-quarter 2022.
In the year so far, HOOKIPA's stock price has plunged 43.4% in comparison with the industry's 1.2% decline.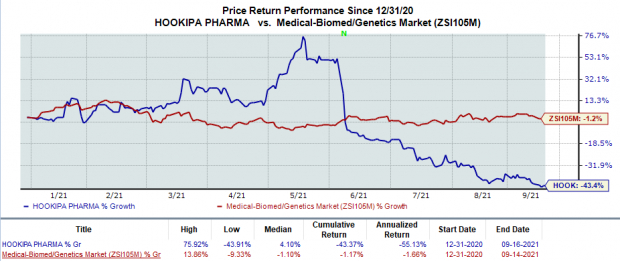 Image Source: Zacks Investment Research
We inform investors that the HB-200 program comprises two candidates, HB-201 and HB-202, which are being evaluated in the HB-200 phase I/IIstudy for the treatment of HPV16+ in heavily pre-treated patients. While HB-201 is being evaluated as monotherapy, it is also being evaluated in an alternating combination with HB-202.
Iovance Biotherapeutics (IOVA Quick QuoteIOVA ) is also evaluating its novel T-cell therapy LN-145 in a phase II study in patients with HNSCC, both as a monotherapy and in combination with Keytruda.
We note that Keytruda continues to remain Merck's key growth driver as it is continuously growing and expanding into new indications and markets globally. Currently, Keytruda is being studied for more than 30 types of cancer in more than 1550 studies, including more than 1100 combination studies in partnership with big pharma companies like Glaxo (GSK Quick QuoteGSK ) and Pfizer.
HOOKIPA Pharma Inc. Price
HOOKIPA Pharma Inc. price | HOOKIPA Pharma Inc. Quote
Zacks Rank
HOOKIPA currently carries a Zacks Rank #3 (Hold). You can see the complete list of today's Zacks #1 Rank (Strong Buy) stocks here.