tags:
Shares of SkyWest (SKYW Quick QuoteSKYW ) have gained 4.8% so far this year against the 1.4% depreciation of its industry.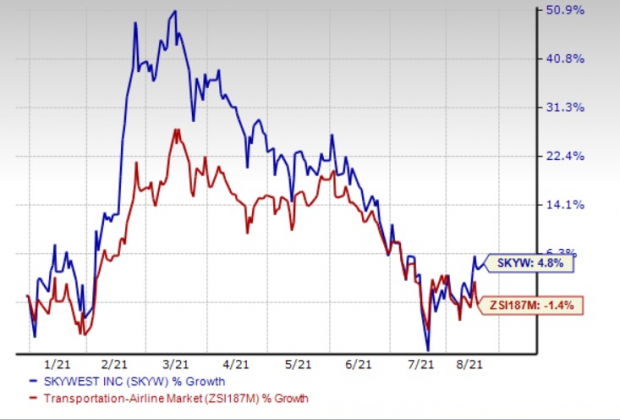 Image Source: Zacks Investment Research
Let's look into the factors that are working in favor of this currently Zacks Rank #1 (Strong Buy) stock. You can see the complete list of today's Zacks #1 Rank stocks here.
Northward Earnings Estimates: The Zacks Consensus Estimate for current-quarter earnings has been revised 44.7% upward over the past 60 days. For 2021, the consensus mark for earnings has moved 77.7% north in the same time frame. The favorable estimate revisions reflect the confidence of brokers in the stock.
Given the wealth of information at brokers' disposal, it is in the best interest of investors to be guided by their expert advice and the direction of their estimate revisions. This is because the path of estimate revisions serves as an important pointer when it comes to ascertaining the stock price.
Impressive Revenue Growth: The Zacks Consensus Estimate for current-quarter revenues is pegged at $694.7million, indicating a 51.9% rise from the year-ago quarter's reported figure. Similarly, the consensus mark for current-year revenues stands at $2.63 billion, implying a 23.7% increase from the prior-year reported figure.
Other Tailwinds: SkyWest is being aided by the betterment in air-travel demand (particularly for leisure) in the United States. With increased vaccination, more and more people are taking to the skies. Owing to increased air-travel demand, the carrier reported second-quarter 2021 earnings of $1.22 per share, which beat the Zacks Consensus Estimate of 28 cents. SkyWest carried 40.7% more passengers in the first six months of 2021. Passenger load factor (percentage of seats filled by passengers) expanded 960 percentage points to 67.6% in the first half of 2021.
SkyWest's liquidity position is also impressive. The carrier exited the second quarter of 2021 with cash and marketable securities of $955.7 million, above its current debt level of $361 million. This implies that the company has enough cash to meet its short-term debt obligations. SkyWest exited the second quarter of 2021 with a current ratio (a measure of liquidity) of 1.02, comparing favorably with the year-ago quarter's reading of 0.96.
Adding to its bullishness, SkyWest has a VGM Score of A
Other Stocks to Consider
Investors interested in the Zacks Transportation sector may also consider stocks like Matson (MATX Quick QuoteMATX ) , Costamare (CMRE Quick QuoteCMRE ) , and Genco Shipping & Trading Limited (GNK Quick QuoteGNK ) , each sporting a Zacks Rank #1 at present.
Shares of Matson, Costamare and Genco Shipping have gained in excess of 30%, 48% and 100%, respectively, year to date.