tags:
Gilead Sciences, Inc.'s (GILD Quick QuoteGILD ) wholly owned subsidiary, Kite, announced that the European Commission ("EC") has approved its chimeric antigen receptor (CAR) T-cell therapy, Yescarta (axicabtagene ciloleucel) for the treatment of diffuse large B-cell lymphoma (DLBCL) and high-grade B-cell lymphoma (HGBL) in adult patients who relapse within 12 months from the completion of or are refractory to first-line chemoimmunotherapy.
Following the EC nod, Yescarta became the first CAR T-cell therapy to be approved for patients in Europe who do not respond to first-line treatment.
The latest EC nod was based on data from the pivotal phase III ZUMA-7 study, which evaluated Yescarta versus standard of care ("SOC") in the above-mentioned patient population. Data from the same showed that patients who were treated with Yescarta had a four-times greater improvement in the primary endpoint of event-free survival versus SOC.
Also, treatment with Yescarta led to a 2.5-fold increase in patients who were alive for two years without disease progression or need for additional cancer treatment as compared to SOC.
The approval in Europe was expected as in September 2022, the Committee for Medicinal Products for Human Use of the European Medicines Agency rendered a positive opinion for Yescarta to treat adult patients with DLBCL and HGBL that relapses within 12 months from the completion of or is refractory to first-line chemoimmunotherapy.
Yescarta was first approved in Europe in 2018 and is currently indicated for five types of blood cancer – DLBCL, HGBL, Large B-Cell Lymphoma, primary mediastinal large B-Cell lymphoma and follicular lymphoma.
Shares of Gilead have lost 8.6% so far this year compared with the industry's decline of 26.7%.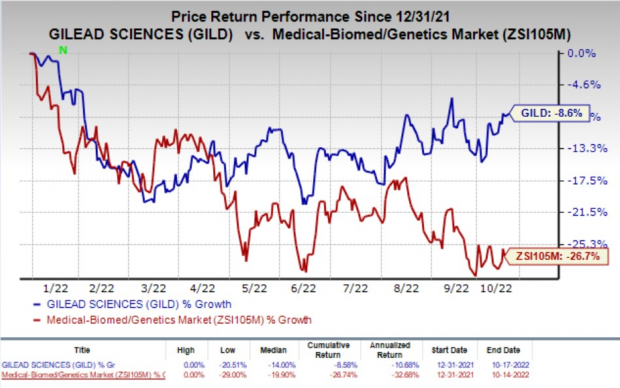 Image Source: Zacks Investment Research
In a separate press release, Gilead announced that it has entered into an exclusive option and collaboration agreement with the Maryland-based biopharmaceutical company, MacroGenics, Inc. (MGNX Quick QuoteMGNX ) , to develop bispecific antibodies.
With this agreement, the companies are looking to develop MGD024, an investigational, bispecific antibody that has been developed using MacroGenics' DART® platform, and two other additional bispecific research programs.
MGD024 is currently being evaluated in a phase I study for treating various types of hematologic malignancies including acute myeloid leukemia and myelodysplastic syndromes.
Per the latest agreement, Gilead will make an upfront payment of $60 million to MacroGenics, while the latter will also be eligible to receive up to 1.7 billion as potential milestone payments. MGNX is also entitled to receive tiered, double-digit royalties on worldwide net sales upon potential approval of the product.
The deal looks like a good strategic fit to boost GILD's immuno-oncology and growing hematology portfolio.
Zacks Rank & Stocks to Consider
Gilead currently carries a Zacks Rank #3 (Hold). Some better-ranked stocks in the biotech sector are Acadia Pharmaceuticals Inc. (ACAD Quick QuoteACAD ) and ORIC Pharmaceuticals, Inc. (ORIC Quick QuoteORIC ) , both carrying a Zacks Rank #2 (Buy) at present. You can see the complete list of today's Zacks #1 Rank (Strong Buy) stocks here.
Loss per share estimates for Acadia narrowed 0.8% for 2022 and 11.7% for 2023 in the past 60 days.
Earnings of Acadia surpassed estimates in two of the trailing four quarters and missed on the remaining two occasions. ACAD delivered an earnings surprise of 6.83%, on average.
Loss per share estimates for ORIC Pharmaceuticals narrowed 5.9% for 2022 and 7.3% for 2023 in the past 60 days.
Earnings of ORIC Pharmaceuticals surpassed estimates in three of the trailing four quarters and missed on the other occasion. ORIC delivered an earnings surprise of 8.85%, on average.