tags:
FuelCell Energy (NASDAQ:FCEL) has been a public company for roughly three decades. However, it has yet to find its footing, marked by negative top-line, bottom-line, and cash flow growth. Since the beginning of the year, its performance has been abysmal, with poor operating results in the first half. The third quarter should be more of the same, which will put more pressure on FCEL stock.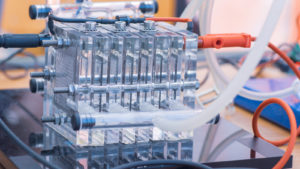 Source: Kaca Skokanova/Shutterstock
FCEL stock has shed more than 45% of its value since the beginning of the year. Its torrid performance is linked to its litigations with Posco Energy and its disappointing financial performance. The South Korean energy company had been in business with FCEL for eight years before Posco spun off its fuel-cell business into a new entity. Since that spin-off occurred in 2019, both companies have been embroiled in a legal battle.
Regardless of FCEL stock's dismal performance, it trades at over 28.5 times forward sales. Therefore, the stock is highly overvalued, which makes it a remarkably unattractive bet at this stage.
Recapping FCEL's Second Quarter
FCEL reported its second-quarter results back in June. Investors were expecting a better showing from the first quarter, where revenues dropped by roughly 8.6% from the prior year quarter. However, the quarter turned out to be even worse.
Revenues in the second quarter declined 25.9% to $14 million and were down estimates by $4.91 million. The drop was driven by a $6.3 million decrease in service and licensing revenues. Moreover, it posted a gross loss of $4.8 million against a profit of roughly $0.2 million in the same quarter last year.
Furthermore, the company's operating loss shot up to $17.4 million from $8.1 million on a year-over-year basis. This was mainly due to a drop in sales and higher costs pertaining to changes related to the timing of future module exchanges.
There were some positives, though. The company's backlog stood at $1.32 billion at the end of the quarter, spread over several years. It received $8 million from the Department of Energy to continue its FuelCell systems development. Moreover, it also announced a new power purchase agreement for a 2.8 MW project in Connecticut. Additionally, annualized production rate should reach 45 MW by the conclusion of this year.
Outlook on FCEL Stock
Despite some of the positives in the second quarter, it doesn't seem that the turnaround is on the cards for FCEL. Despite having a massive backlog, it's not making much from the products and services it sells as it generates negative margins. No major fuel cell company has generated a profit; hence it's plausible to assume that its negative margins will stay and its business will continue burning money.
Another downer with FCEL is the risk of dilution since it has burned a significant amount of cash in recent months. Its liquidity stood at just $171.2 million, dropping 10.4% from its balance in October 2020. Analysts are expecting FCEL to be unprofitable this year which is the management could execute another secondary offering to improve its financial flexibility. If that happens, its existing stockholders will be hurt the most.
Bottomline On FCEL Stock
FCEL stock has had a pathetic run since the beginning of the year. Its deplorable financial performance is the obvious reason why the stock continues to slide. The second quarter showed that the company has a tough road ahead and will end the year on a somber note.
It expects to post its third-quarter results, which should come in better than its second quarter. Revenues will grow 13.1% to $21.19 million from the prior year quarter. Moreover, it should post a quarterly loss of 5 cents per share, a healthy improvement of 28.6%. However, FCEL stock is already overpriced, and the post-earnings gains could further reduce its attractiveness.
On the date of publication, Muslim Farooque did not have (either directly or indirectly) any positions in the securities mentioned in this article. The opinions expressed in this article are those of the writer, subject to the InvestorPlace.com Publishing Guidelines