tags:
There are few things more powerful than your own beliefs. This is playing out in a big way with the meme stock trade, particularly with the original, GameStop (NYSE:GME). And eight months after trading for over $500 per share, GME stock remains one of the most intriguing.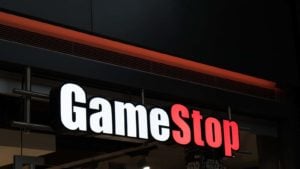 Source: Emil O / Shutterstock.com
Did I just say put "GME stock" and "intriguing" in the same sentence? I did, but probably not for the reason you may think. The company has made a smart pivot to e-commerce. And retail investors have helped fund this transition as evidenced by the $1.1 billion at-the-market offering the company conducted in June.
As a result of that transition, GameStop is emerging as a leaner company. On the second-quarter earnings call, CEO Matt Furlong remarked that GameStop's year-over-year debt level was down $424.7 million. He also remarked that the company's only long-term debt is a $47.5 million low-interest unsecured term loan.
Difficult Comparisons Challenge GME Stock
However, while revenue is trending in the right direction, the comparisons become difficult. GameStop's fiscal year runs from February through January. And for the first two quarters of this year, GameStop delivered revenue of $1.28 billion and $1.18 billion. That is higher than in FY2020 when the company reported revenue of $1.02 billion and $942 million in the respective quarters.
But that may not be a fair comparison. So I looked back to FY2019. And the revenue for the first two quarters of that year came in at $1.55 billion and $1.29 billion, respectively. That's a 13% decline.
I know that GME bulls will say that I'm not comparing apples to apples. In 2019, the company was relying on revenue from its brick-and-mortar business. Now the company is focused on e-commerce. And investors would be quick to point out that hardware sales are being affected by the global chip shortage. Except they're not. In fact, hardware sales were up on a year-over-year basis.
The more alarming trend is software sales, which continue to be in free fall. And with more and more gamers opting for digital downloads, it's unlikely that the company will be able to reverse this trend.
Plus the company is not completely reliant on e-commerce at this time. On the earnings call, Furlong noted that the company reported a 9% reduction in its "global store fleet." This is a good move, but the transition will still take time.
What Comes Next?
This is where things become more problematic. Specifically because GameStop is not offering investors any forward guidance. However, the company did reiterate that they "believe total net sales is the most appropriate metric to evaluate performance at this time."
This is why I believe that the perception of GameStop may be all that matters.
GME stock bulls will say the analyst community unfairly is stuck in the past and fails to see the e-commerce opportunity that exists. However, GME skeptics will point out that GameStop is attempting to compete in a hyper-competitive market.
GME Stock is Developing a Pattern
They say when something happens three times, it becomes a pattern. So I find it intriguing that for the third-straight earnings report, GME stock has gapped down after earnings. When this happened in March, the stock recovered its former share price and, in fact, closed as high as $300 before the company's June earnings.
However, since then the stock has been on a steady downtrend. And that's why I'm still of the mindset that GameStop has a heavy lift.
I think InvestorPlace contributor Thomas Niel summarized my feelings best when discussing the risk/reward scenario for GME stock. Simply put, it's more likely that over time (those are critical words), the likelihood for the stock to take a large move down appears to be greater than the possibility that the stock will soar higher.
On the date of publication, Chris Markoch did not have (either directly or indirectly) any positions in the securities mentioned in this article. The opinions expressed in this article are those of the writer, subject to the InvestorPlace.com Publishing Guidelines.
Chris Markoch is a freelance financial copywriter who has been covering the market for seven years. He has been writing for InvestorPlace since 2019.