tags:
Fisker (NYSE:FSR) announced its latest second-quarter results on Aug. 8 and indicated that it now has $962 million in cash as of June 30, 2021. In my last article on FSR stock, I argued that Fisker would need to do a further capital raise. I felt that the luxury electric vehicle (EV) maker would run low on cash before it began production in the fall of 2022.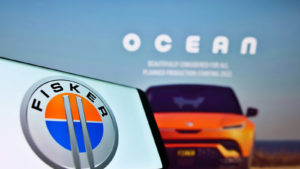 Source: T. Schneider / Shutterstock.com
But Fisker came through. The company announced on Aug. 13 it closed a $625 million convertible note offering. Moreover, investors have the right to buy another $100 million in convertible notes. The amazing thing is that it did not hurt FSR stock as I originally thought it might.
So now I am much more positive about the stock going forward.
Moreover, the terms were not that onerous. The conversion feature is at $19.70 per share. That is now 39.5% over the Sept. 7 price of $14.12. In addition, the cost of the notes (unless converted into common stock) is only 2.50% annually, paid semi-annually.
Now I feel like the company will have enough cash to cover its ongoing costs at least through the point of initial production and shortly thereafter. This helps buttress the value of FSR stock going forward.
7 EV Charging Stocks to Buy for an Infrastructure Rally
In addition, if they were able to raise this much cash in a convertible note more than a year before production, they could do so again if need be. That also helps support the value of the stock going forward.
What Fisker Stock Could Be Worth
In Fisker's latest updated Sept. 2021 investor slide deck, the company says it expects to be able to produce 200,000 to 250,000 annual unit sales by 2025.
Moreover, on page 31 of the slide deck, Fisker indicates it was able to raise a total of $667.5 million in the convertible note offering. The company also indicates that there will be no dilution, due to some derivatives that the company bought, below $35 per share. And the dilution to existing shareholders will only be 2% at $40. This shows that there is a significant value left in the stock.
In addition, it also shows that the company now has $1.487 billion in cash. That means that the EV business is only being valued at $2.694 billion. That is probably too cheap.
One reason is that page 29 of its original presentation shows that Fisker expects to have $10.6 billion in sales by 2024. It also shows that free cash flow could be as high as $1 billion by then.
Assuming we use a 10% discount rate for 3.5 years in the future, the present value of that $1 billion is worth $716.35 million today. At a 10% FCF yield, that implies the business is worth $7.163 billion today. After adding back $1.487 billion in cash, the value of FSR stock is $8.65 billion. That suggests that FSR stock is worth 106% more than its market cap today of $4.181 billion. In other words, FSR stock has a value of $29.21 per share.
What to Do With FSR Stock
Assuming it takes two years for this to happen, this reasoning implies that FSR could rise 43.8% annually on a compound basis each year. If it takes three years, the stock could rise 27.4% each year on a compound basis.
In other words, expect to see FSR somewhere between $18 and $20.30 within 2 years or so. That suggests investors can expect to make a good return. Again, this assumes that the company is able to begin production and start producing free cash flow by 2024. Any delays in that timeline would lower the value of FSR stock.
As a result, the recent price around $14 looks like good value, especially now that the company has plenty of capital to get it through the first production next fall. Investors might want to begin taking a toehold stake, with a view to averaging down if necessary.
On the date of publication, Mark R. Hake did not hold a position, directly or indirectly, in any security mentioned in the article. The opinions expressed in this article are those of the writer, subject to the InvestorPlace.com Publishing Guidelines.
Mark Hake writes about personal finance on mrhake.medium.com and runs the Total Yield Value Guide which you can review here.