tags:
FibroGen, Inc. (FGEN Quick QuoteFGEN ) along with its Japan-based partner Astellas announced that the European Commission ("EC") has approved roxadustat to treat adult patients with symptomatic anemia associated with chronic kidney disease ("CKD"). The drug will be sold in Europe under the brand name Evrenzo.
Following approval, Evrenzo is the first orally administered hypoxia-inducible factor-prolyl hydroxylase ("HIF-PH") inhibitor available in the European Union.
Anemia of CKD is a serious medical condition in which patients have insufficient red blood cells and low levels of hemoglobin. It is a common early complication of CKD, a progressive disease characterized by gradual loss of kidney function that may eventually result in kidney failure or end stage renal disease, requiring dialysis or kidney transplant.
Evrenzo activates the body's natural response to reduced oxygen levels in the blood and is designed to increase hemoglobin ("Hb") levels through a different mechanism of action compared to injectable erythropoiesis-stimulating agents that are typically co-administered with intravenous iron.
FibroGen's stock has plunged 69.1% so far this year in comparison with the industry's decline of 14.4%.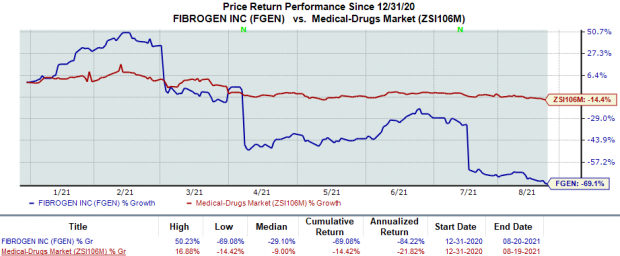 Image Source: Zacks Investment Research
The approval in Europe follows positive recommendation of EMA's Committee for Medicinal Products for Human Use for Evrenzo based on data from a pivotal phase III study. The study demonstrated Evrenzo's efficacy in achieving and maintaining target Hb levels in patients with symptomatic anemia of CKD regardless of dialysis status and irrespective of prior ESA treatment.
FibroGen has partnered with Astellas Pharma for the development and commercialization of the drug in Europe as well as in several other territories including Japan, Turkey, Russia, and the Commonwealth of Independent States, the Middle East, and South Africa. Following EU approval for Evrenzo, FibroGen is eligible to receive a milestone payment of $120 million from Astellas.
We remind investors that last week, the FDA refused to approve the new drug application ("NDA") for roxadustat to treat anemia of CKD in both non-dialysis-dependent and dialysis-dependent adult patients. The FDA issued a complete response letter indicating that it will not approve roxadustat's NDA in its present form. The letter also asked the company to conduct additional clinical studies on the candidate, prior to resubmission of the NDA. The company has partnered with AstraZeneca (AZN Quick QuoteAZN ) for development and commercialization of roxadustat across the United States.
Please note that roxadustat has already been approved in China, Japan, Chile and South Korea for a similar indication.
FibroGen, Inc Price
FibroGen, Inc price | FibroGen, Inc Quote
Zacks Rank & Stocks to Consider
FibroGen currently carries a Zacks Rank #3 (Hold). A couple of better-ranked stocks in the biotech/drug sector are Moderna (MRNA Quick QuoteMRNA ) and Ironwood Pharmaceuticals (IRWD Quick QuoteIRWD ) . While Ironwood sports a Zacks Rank #1 (Strong Buy), Moderna currently carries a Zacks Rank #2 (Buy). You can see the complete list of today's Zacks #1 Rank stocks here.
Ironwood's earnings per share estimates for 2021 have increased from $1.05 to $2.04 in the past 30 days. The same for 2022 has risen from $1.18 to $1.72 over the same period. The stock has rallied 14.1% in the year so far.
Moderna's earnings per share estimates for 2021 have increased from $25.19 to $29.04 in the past 30 days. The same for 2022 has risen from $17.71 to $22.26 over the same period. The stock has rallied 259.5% in the year so far.