tags:
Electronic Arts (EA Quick QuoteEA ) , one of the top global players in video games development and delivery as well as delivery of content and online services, has gained 1.1% in the year-to-date period against the Zacks Toys – Games – Hobbies industry's decline of 10.2%.
The company has been increasingly focusing on expanding its gaming portfolio to boost user growth. Electronic Arts and Zoink Games recently announced the launch of Lost in Random.
Set in a stop-motion-inspired dark-fairytale world around dice and chance, Lost In Random tells the story of two young sisters, namely, Even and Odd. Players will embark on a journey through the twisted, dystopian world of Random together with Even and her living dice, Dicey.
The premise of this action-adventure game is that a sinister Queen rules over the kingdom of Random. In this kingdom, chance rules, and players will influence it in their favor, experience explosive dice battles, play with time, and learn exciting abilities and spells.
In addition to the launch trailer, EA has also released the game's soundtrack on Spotify (SPOT Quick QuoteSPOT ) .
Year to Date Performance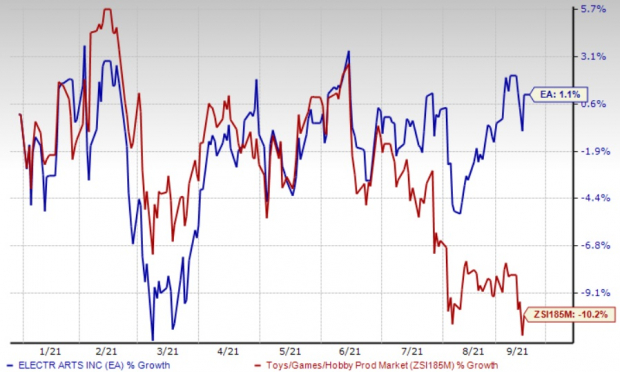 Image Source: Zacks Investment Research
Strength in Mobile Live Services to Aid the Top Line
EA's portfolio now spans more than 15 top mobile live services. This Zacks Rank #3 (Hold) company is expected to benefit from strength in popular mobile games such as Madden Mobile, FIFA Mobile, and Star Wars: Galaxy of Heroes. You can see the complete list of today's Zacks #1 Rank (Strong Buy) stocks here.
Player spending on mobile games has skyrocketed due to the pandemic-led spike in demand. Per App Annie estimates, mobile gaming is expected to witness $120 billion in consumer spending, which will be three times more than consoles.
Moreover, video game spending is expected to remain robust buoyed by strong demand. According to The NPD Group report, consumers spent a whopping $4.6 billion on gaming in July, up 10% on a year-over-year basis, which marked the best July since 2008 in terms of sales. This is expected to benefit video game developers for the rest of 2021.
The video gaming industry is set to witness a CAGR of 9.64% between 2021 and 2026 and reach $314.4 billion, according to data from Mordor Intelligence report. This is also expected to attract further competition from mobile game developers like Tencent (TCEHY Quick QuoteTCEHY ) and Activision Blizzard (ATVI Quick QuoteATVI ) .
Nonetheless, EA, through its recent takeovers — Playdemic, Glu Mobile, Inc., and Codemasters Group Holdings plc — expects to propel mobile growth with ongoing live services across different games and genres.
The acquisition of Glu Mobile is expected to aid the growth of EA's mobile business, building on its network of 100 million monthly active players in mobile besides an attractive portfolio of 15+ top-notch live services spread across multiple fast-growing genres.
Its recent partnership with the United States Golf Association for featuring the U.S. Open Championship in EA Sports PGA Tour and the announcement of a first-person shooter game Battlefield 2042 that is going to be launched on Oct 22, 2021, is further thrilling gaming enthusiasts.