tags:
If the markets were 100% logical, then Pinterest's (NYSE:PINS) triple-digit revenue growth should have induced a massive buying spree for PINS stock. Yet, as you're probably well aware, the markets aren't always logical.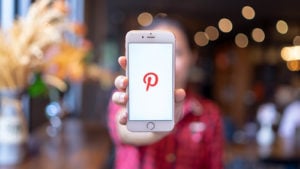 Source: Nopparat Khokthong / Shutterstock.com
It's tempting to get frustrated when there's a mismatch between a company's intrinsic value and its share price. This may be what's happening with Pinterest in 2021.
One way to react is to just give up on PINS stock. However, I'd like you to consider another approach: buying when others are selling.
That's the credo of successful contrarian and value-focused investors. True, Pinterest might not be the darling of the markets at the moment. But this can be viewed as an opportunity rather than a problem.
PINS Stock at a Glance
Back in March of 2020, when the financial markets were imploding, PINS stock could be purchased for around $12. As it turned out, that was a terrific bargain. Pinterest soon benefited from a wave of interest in stay-at-home, social-media-centered hobbies.
This phenomenon played out in the markets, with stay-at-home stocks doubling, tripling or more.
Thus, the PINS stock price skyrocketed during the second half of 2020 and into early 2021. It hit a resistance level of around $85 in February and again in April before declining in the subsequent months.
Perhaps due to concerns over the stay-at-home trade losing its momentum, Pinterest shares declined to the $56 area in mid-August of 2021. Interestingly, a recent earnings report also added to the negative price pressure on PINS stock. Yet, did the fiscal data really justify the selloff in this name?
Crushing It with Revenue Growth
There are times when a company will post excellent financial stats, but its stock gets beaten down anyway. Pinterest's second-quarter 2021 results are a textbook example of this. The company's top-line growth was truly impressive, yet the market chose to ignore that fact.
To be more specific, Pinterest posted $613 million in Q2 revenues. That signifies a whopping 125% year-over-year (YOY) improvement.
Furthermore, that dollar figure easily beat Wall Street's average revenue forecast of $562 million. Plus, percentage-wise, it outperformed Pinterest management's guidance of roughly 105% revenue growth.
So, that's the company's top line — but what about Pinterest's bottom-line performance? We can measure it a couple of different ways. Still, however you cut it, the results were impressive.
In terms of net income, Pinterest showed a $69 million profit during 2021's second quarter. That's much better than the $101 million loss it saw in the year-ago period.
Plus, on a non-GAAP (adjusted) basis, Pinterest's Q2 2021 net income was $170 million. This is also outstanding compared to the $38 million loss it reported in Q2 2020.
Not Such a Major Concern
To help explain the company's excellent quarterly results, Pinterest cited "increased demand from large retail advertisers, as well as rapid growth in our international business."
However, there was another detail that likely caused the post-earnings-report selloff. So, are you ready for the terrible news?
During Q1 2021, Pinterest posted 30% global monthly active user growth. For the second quarter, however, that growth shrank to 9%.
Apparently, that's what had the markets so concerned about PINS stock. But to that, I suggest that investors be more realistic.
It's awfully difficult to maintain 30% growth in global monthly active users quarter after quarter. And besides, 9% growth is nothing to sneeze at. Even if the stay-at-home trade is fading (which it might not be), Pinterest isn't losing users.
Plus, among the users that are on the platform, Pinterest is doing a great job of monetizing them. During Q2 2021, Pinterest's global average revenue per user (ARPU) increased by 89% compared to the year-ago quarter.
The Takeaway on PINS Stock
Apparently, some market participants weren't pleased with Pinterest's global monthly active user growth.
To me, though, the sensible response to those numbers would be a realistic approach. Pinterest's user-growth trajectory is just fine, even if it's not as steep as it was during the first quarter. Moreover, Pinterest is firing on all cylinders when it comes to generating revenues.
Therefore, lower prices in PINS stock aren't a problem. Really, they're just a gift from the markets.
On the date of publication, Louis Navellier had a long position in PINS. Louis Navellier did not have (either directly or indirectly) any other positions in the securities mentioned in this article.
The InvestorPlace Research Staff member primarily responsible for this article did not hold (either directly or indirectly) any positions in the securities mentioned in this article.
Louis Navellier, who has been called "one of the most important money managers of our time," has broken the silence in this shocking "tell all" video… exposing one of the most shocking events in our country's history… and the one move every American needs to make today.