tags:
Dexcom, Inc. (DXCM Quick QuoteDXCM ) recently announced that its G6 continuous glucose monitoring ("CGM") System is now covered by the Non-Insured Health Benefits ("NIHB") program for diabetics aged between two and 19 requiring intensive insulin therapy. The expanded coverage is expected to provide access to the system to a wider pool of First Nations and Inuit children and adolescents, thereby potentially enabling them to better manage the life-long chronic illness.
For investors' note, clients aged between two and 19 can obtain their Dexcom G6 CGM supplies directly from their local pharmacies as part of the NIHB coverage program.
With the latest expanded coverage, Dexcom is expected to solidify its foothold in the global CGM business.
Few Words on Dexcom G6 CGM
The Dexcom G6 CGM System can provide real-time alerts, including a predictive Urgent Low Soon alert. The real-time alerts can warn users of hypoglycemia (low blood glucose level) beforehand, thereby allowing them to take appropriate action before it happens. Parents can also access their children's glucose levels remotely, and be alerted if they are deviating from the target glucose range by using the Dexcom Follow App.
Significance of the Coverage
Per a medical expert, extended access to CGM for Indigenous, First Nations and Inuit communities can lead to better glucose control, and in turn, to better health outcomes and lower risk of developing diabetes-related complications. CGM can also be used to bridge the gap between remote communities and care providers via the Dexcom CLARITY software and app, which can be used to remotely monitor a patient's glucose data and trends over time for better treatment decisions.
Per management, greater CGM access for clients enrolled in NIHB is a crucial step toward creating a more equitable healthcare system throughout the country.
Industry Prospects
Per a report by Grand View Research, the global CGM device market was valued at $3,929.7 million in 2019 and is expected to reach $10.4 billion by 2027 at a CAGR of 12.7%. Factors like rising cases of diabetes and increasing adoption of CGM devices are likely to drive the market.
Given the market potential, the latest expanded coverage is expected to provide a significant boost to Dexcom's business globally.
Notable Developments
Dexcom has witnessed a few notable developments across its business over the past few months.
In July, the company reported robust second-quarter 2021 results where it witnessed strength in overall revenues as well as in its domestic and international performances.
The same month, Dexcom received the FDA's clearance for Dexcom Partner Web APIs, which will enable approved third-party developers to integrate real-time CGM data into their digital health apps and devices.
In June, the company announced that the Dexcom G6 CGM system was eligible for provincial coverage through BC PharmaCare. Diabetics on intensive insulin therapy and above the age of two could be entitled to the coverage.
Price Performance
Shares of the company have gained 35.8% in the past year compared with the industry's 13.3% growth and the S&P 500's 32.7% rise.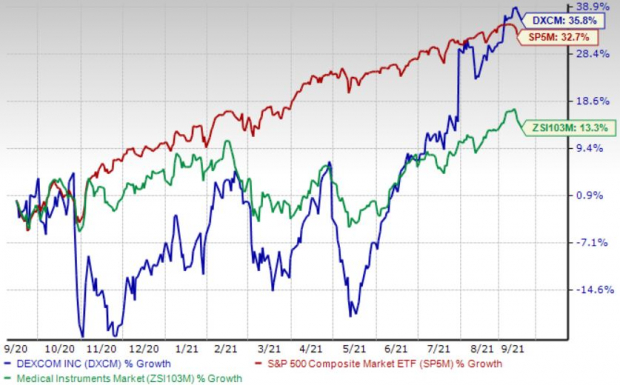 Image Source: Zacks Investment Research
Zacks Rank & Key Picks
Currently, Dexcom carries a Zacks Rank #3 (Hold).
Some better-ranked stocks from the broader medical space are Henry Schein, Inc. (HSIC Quick QuoteHSIC ) , IDEXX Laboratories, Inc. (IDXX Quick QuoteIDXX ) and Intuitive Surgical, Inc. (ISRG Quick QuoteISRG ) .
Henry Schein's long-term earnings growth rate is estimated at 13.9%. The company presently carries a Zacks Rank #2 (Buy). You can see the complete list of today's Zacks #1 Rank (Strong Buy) stocks here.
IDEXX's long-term earnings growth rate is estimated at 19.9%. It currently has a Zacks Rank #2.
Intuitive Surgical's long-term earnings growth rate is estimated at 9.7%. It currently flaunts a Zacks Rank #1.