tags:
Caterpillar Inc. (CAT Quick QuoteCAT ) recently acquired Rhode Island-based CarbonPoint Solutions, which is in sync with its constant endeavor to ensure a reduced-carbon future. The move is in support of global efforts to mitigate the impact of climate change. CarbonPoint Solutions provides know-how to simply and cost-effectively reduce the amount of carbon dioxide released into the atmosphere with its proven carbon capture technology.
CarbonPoint Solutions was founded in 2011 as Enhanced Energy Group. Currently its patented Semi-Closed Cycle ("SCC") and CO2-TSA processes enable concentration and capture of carbon dioxide at the distributed power system scale across a broad range of reciprocating engines and gas turbines. Combining CarbonPoint Solutions' patented technology with Caterpillar's Oil & Gas solutions will aid the latter in its sustainability goals. The company is sincerely working to reduce greenhouse gas ("GHG") emissions from its operations and making continued investments in new products, technologies and services to help customers toward a carbon neutral future.
Innovations in this regard include a battery powered, zero-emissions switcher locomotive and underground loader, and reciprocating engines and gas turbines that burn hydrogen blends, landfill gas and other biogases. The company is also developing a variety of alternative power solutions to support a lower-carbon future, including battery-powered construction machines.
Earlier this month, Caterpillar joined forces with Chevron Corporation (CVX Quick QuoteCVX ) , one of the world's leading integrated energy companies, to explore the feasibility, performance and commercial viability of hydrogen as a fuel source in transportation and stationary power applications, including prime power. (Read more: Caterpillar, Chevron Tie Up to Explore Hydrogen Prospects)
In August, Caterpillar partnered with BHP Group (BHP Quick QuoteBHP ) to develop and deploy zero-emissions mining trucks at the latter's sites to reduce operational GHG emissions.
By 2020, the company effectively reduced GHG emissions intensity from its operations by 51% from the 2006 baseline, exceeding its target by 2%. Renewables or alternative sources contributed 33% of its energy requirements, which was 65% higher than its targeted level. In its 2020 Sustainability Report, the company introduced seven new goals for 2030 with five centered on climate and the environment, and the remaining two focused on employee and customer safety. It has set a target to reduce absolute GHG emissions from its operations by 30% from 2018 to 2030. It aims to make 100% of its new products through 2030 to be more sustainable than the previous generation. The new products will offer improved design for rebuild/remanufacturing, lower emissions, enhanced efficiency and reduced waste.
The company also intends to implement water management strategies at all of its facilities located in water high-risk areas by 2030. It has targeted to reduce landfill intensity by 50% from 2018 to 2030. It plans to boost sales from remanufacturing offerings by 25% by 2030 compared with 2018 levels.
Price Performance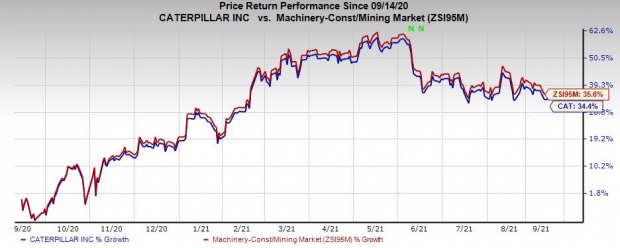 Image Source: Zacks Investment Research
Shares of Caterpillar have gained 34.4% in a year compared with the industry's rally of 35.6%.
Zacks Rank & a Stock to Consider
Caterpillar currently carries a Zacks Rank #3 (Hold).
A better-ranked stock in the Industrial Products sector is Encore Wire Corporation (WIRE Quick QuoteWIRE ) , which sports a Zacks Rank #1 (Strong Buy), at present. You can see the complete list of today's Zacks #1 Rank stocks here.
Encore Wire has a projected earnings growth rate of 333% for the current fiscal. The company's shares have gained 72% in a year's time.