tags:
Exela Technologies (NASDAQ:XELA) stock has been on a tear this year, growing by over 115%. A lot of it is due to the retail trading interest in the software provider's stock despite its dismal financial positioning.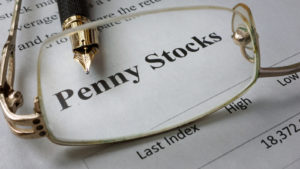 Source: Vitalii Vodolazskyi / Shutterstock.com
The company is heavily indebted and its deplorable fundamentals paint a sordid picture about its future. Therefore, you'd need a lot to convince someone to invest in XELA stock at this point.
The company develops business process automation software for a variety of industries. Its solutions include a list of management tools that help companies streamline their business processes.
However, since the second quarter of 2019, its revenue growth has stalled and continues to be negative. Meanwhile, its debt has been piling up and continues to issue an eye-watering amount of shares in paying it down. It will continue diluting shareholding soon, with no near-term catalysts in sight.
Poor Earnings Results
Exela's earnings results have disappointed its investors over the past three years. Revenue has been decelerating since 2018 as none of its promises seem to have materialized. The management talked about cross-selling and expanding customer wallets, but none of these plans have to fruition.
7 A-Rated, Large-Cap Stocks You Want in Your Portfolio
Most of the company's revenues come from low-margin and labor-intensive outsourcing services. Moreover, its cash flow from operations has been negative despite its aggressive belt-tightening measures. Annual interest of more than $150 million has eaten up its cash flows. Furthermore, its digital transformation plans haven't borne fruit either. A lot of it is due to its high debt and massive interest and cash burn.
Exela recently released its second-quarter results, where revenues dropped 4.8% on a year-over-year basis to $293 million. It marks the seventh straight quarter where its revenues have stalled. The management is hopeful that its transaction volumes could return to pre-Covid 19 levels by the end of this year. However, its guidance is well below 2019 levels, increasing asset sales and customer attrition. At this point, though, the company's problem is its massive interest expense, low margins, and unsustainable operating expenses.
Financial Flexibility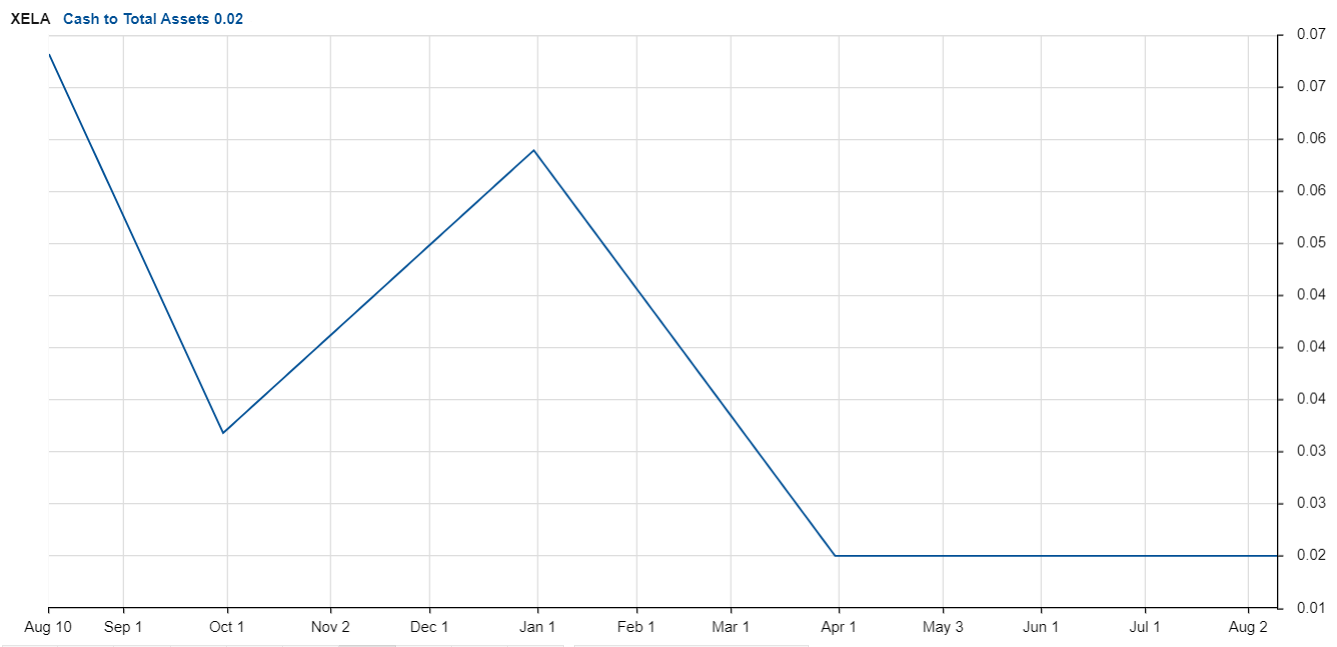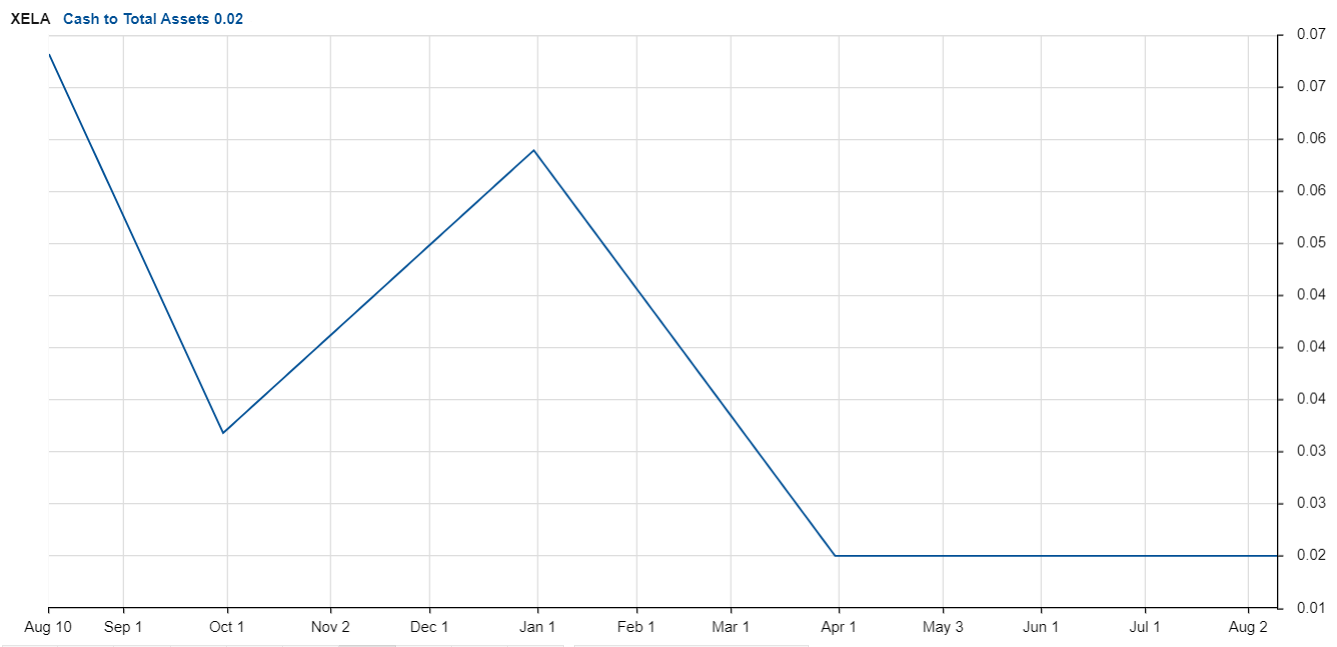 Source: Chart courtesy of StockRover.com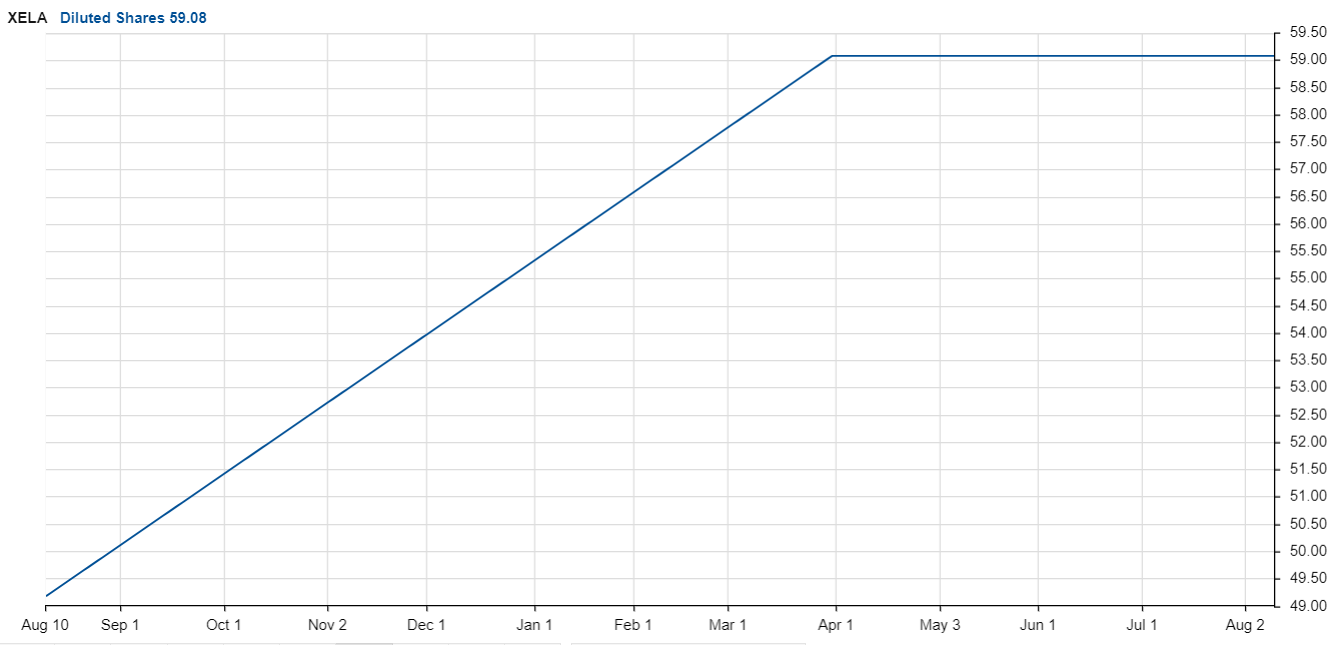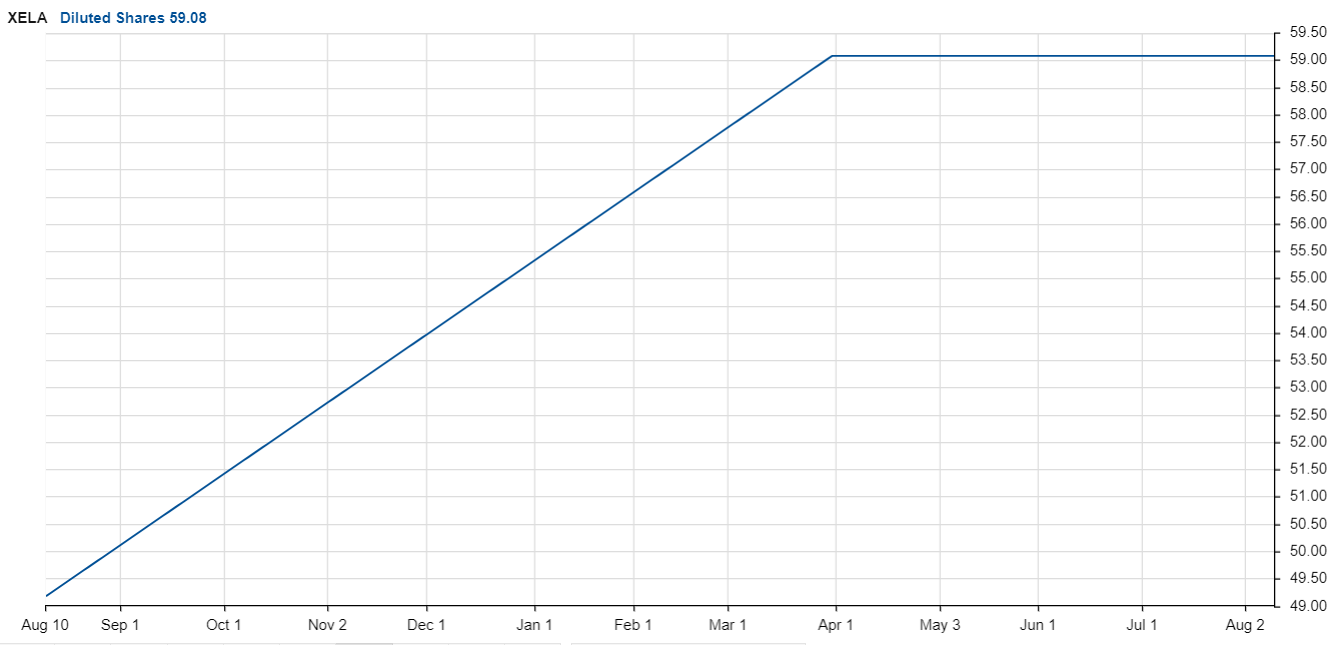 Source: Chart courtesy of StockRover.com
As mentioned previously, Exela's primary concern is its massive debt balance which stands at roughly $1.63 billion compared to its minuscule cash balance of $22 million. The company has been issuing new shares at an incredible pace. Its diluted share count has risen exponentially in the past year. Moreover, the first chart illustrates its dwindling cash balance in comparison to its total assets.
The company might also have to refinance or sell assets to stay afloat in meeting its debt obligations. Refinancing would be tough, and even if it's successful in it, it is likely to be on highly unfavorable terms. Virtually every core financial metric has declined for the company in the past few years.
It could sell its assets as well, but this is likely to impact revenues negatively. Its assets aren't worth enough and are mostly related to goodwill and other intangibles. The two accounts represent more than 50% of its total assets at this time. All these efforts are likely to leave the fate of equity shareholders in great uncertainty.
Bottom Line on XELA Stock
XELA stock has shot up in value due to the meme stock mania. However, in terms of fundamentals and outlook, it offers nothing for the long-term investor. Its revenue growth has slowed down over the past few years, and its debt pressures will continue crippling its business for the foreseeable future.
Therefore, you should pass up on XELA stock at this time.
On Penny Stocks and Low-Volume Stocks: With only the rarest exceptions, InvestorPlace does not publish commentary about companies that have a market cap of less than $100 million or trade less than 100,000 shares each day. That's because these "penny stocks" are frequently the playground for scam artists and market manipulators. If we ever do publish commentary on a low-volume stock that may be affected by our commentary, we demand that InvestorPlace.com's writers disclose this fact and warn readers of the risks.
Read More: Penny Stocks — How to Profit Without Getting Scammed
On the date of publication, Muslim Farooque did not have (either directly or indirectly) any positions in the securities mentioned in this article. The opinions expressed in this article are those of the writer, subject to the InvestorPlace.com Publishing Guidelines