tags:
Shares of aTyr Pharma, Inc. (LIFE Quick QuoteLIFE ) surged 66.97% after the company announced positive results from its phase Ib/IIa double-blind, placebo-controlled study of its lead candidate, ATYR1923.
The study was a randomized, double-blind, placebo-controlled, multiple-ascending dose clinical study in 37 patients with pulmonary sarcoidosis.
aTyr is developing ATYR1923 as a potential therapeutic for patients with severe inflammatory lung diseases. The lead indication for ATYR1923 is pulmonary sarcoidosis.
Pulmonary sarcoidosis is an inflammatory disease characterized by the formulation of granulomas, clumps of inflammatory cells, in one or more organs of the body.
The study consisted of three cohorts testing doses of 1.0 mg/kg, 3.0 mg/kg, and 5.0 mg/kg of ATYR1923 or placebo, dosed intravenously every month for six months. The primary objective of the study was to evaluate the safety, tolerability, immunogenicity, and pharmacokinetic profile of multiple doses of ATYR1923 compared to placebo. Secondary objectives included the potential steroid-sparing effects of ATYR1923 in addition to other exploratory assessments of efficacy.
Results showed that ATYR1923 was safe and well-tolerated at all doses without any drug-related serious adverse events or signal of immunogenicity. Additionally, the study demonstrated consistent dose response for ATYR1923 on key efficacy endpoints and improvements compared to placebo, including measures of steroid reduction, lung function, sarcoidosis symptom measures, and inflammatory biomarkers.
The study was conducted along with the company's Hong Kong subsidiary, Pangu BioPharma Limited, which supports basic and translational research in tRNA synthetase biology in collaboration with the Hong Kong University of Science and Technology.
aTyr Pharma intends to present these data to the FDA. It plans for subsequent clinical development and path to registration for ATYR1923 for pulmonary sarcoidosis and expects to initiate a registrational trial next year.
Shares of the company have rallied 135.9% in the year so far against the industry's 0.8% decline.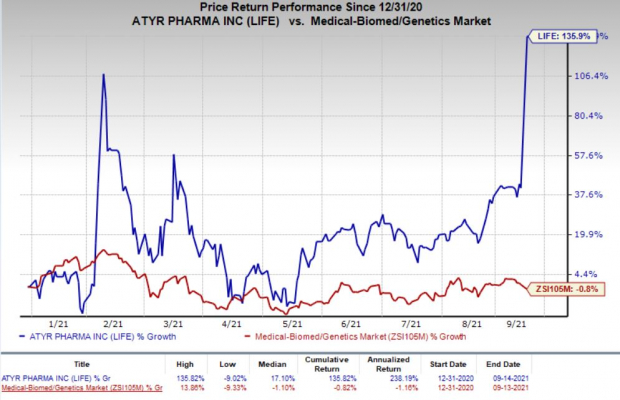 Image Source: Zacks Investment Research
We note that aTyr Pharma has collaborated with Kyorin Pharmaceutical Co., Ltd., a wholly owned subsidiary of Kyorin Holdings, Inc for the development and commercialization of ATYR1923 for interstitial lung diseases in Japan.
The successful development of the candidate will be a significant boost for the company.
Zacks Rank & Stocks to Consider
aTyr currently carries a Zacks Rank #3 (Hold). A few better-ranked companies in the sector are Regeneron Pharmaceuticals (REGN Quick QuoteREGN ) , Repligen (RGEN Quick QuoteRGEN ) , and Moderna (MRNA Quick QuoteMRNA ) . While Regeneron and Repligen sport a Zacks Rank #1 (Strong Buy), Moderna carries a Zacks Rank #2 (Buy). You can see the complete list of today's Zacks #1 Rank stocks here.
Earnings estimates for Regeneron have moved up $3.79 for 2021 in the past 60 days. The stock is up 34.1% year to date.
Earnings estimates for Repligen have moved up 50 cents for 2021 in the past 30 days. The stock is up 53% year to date.
Earnings estimates for Moderna have moved up 13 cents for 2021 in the past 30 days. The stock is up 316.1% year to date.