Earlier this year, investors piled into economic reopening and travel stock names. This made sense. The media was playing up the "Roaring 20s" narrative as it was hoped that rapid vaccination rates and a surging economy would lead to a summer of vacations, partying, and pent-up enthusiasm. Ashford Hospitality Trust (NYSE:AHT) stock was one such winner amid this excitement.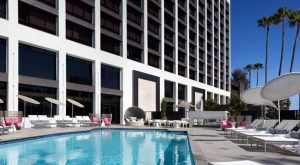 Source: Marriott
While 2021 was certainly better for travel company operators than 2020, it has hardly been a golden age either. Vaccine rates have slowed down dramatically after a hot start. Politicians have put lockdowns and other Covid-19 restrictions back in place in some areas after disease variants have spiked. And many people remain afraid scared to travel given all the uncertainty.
Not surprisingly, the rallies have fizzled out for the travel stocks. They haven't outright crashed again, but they've badly lagged other sectors such as technology. Some travel stocks look much better situated than others to get through the current muddle. Unfortunately, AHT stock is one of those that has a weaker outlook, as its debt and stock dilution sap the equity's comeback potential.
The Cash Isn't as Meaningful as You Think
Bulls love to note that Ashford has nearly half a billion dollars in cash as of last quarter. That's true. However, it misses half of the balance sheet. The company also has $3.9 billion of net indebtedness. In many cases, the debt is backed by hotels.
Ashford will need to either service that debt or it would lose control of hotels back to the mortgage lenders. In other words, in order to keep its hotels functioning, it will need to use a large portion of that cash. Troublingly, the company currently has slightly more total liabilities than assets. This implies that the equity has minimal value at the present time unless it were able to sell some of its hotels at a profit.
Another concern is that Ashford has put off much of its maintenance and improvements spending on its hotels. That makes sense. For one thing, there were fewer clients, so modest issues could be ignored for awhile given the lack of demand. Also, with the company fighting to get through the bust, even important repairs and renovations might be postponed as long as possible. But at some point the bill comes due.
Beware of Cash Traps
The company's gigantic debt isn't the only cash issue that bulls have overlooked. There's also the matter of so-called "cash traps". Ashford itself described what the term signifies in a recent press release. A cash trap "[M]eans any excess cash flow generated by those hotels will be held by the lender and will not be available for corporate purposes." Ashford further concedes that a stunning 98% of its hotels are currently cash traps and that it anticipates many of its hotels "to remain in cash traps for the foreseeable future."
Let's make sure that's crystal clear. Ashford's hotels are significantly under where they need to be in terms of their loans. This means that incremental improvement in the business will benefit the creditor primarily, instead of going to Ashford. The rates of hotel occupancy would need to improve markedly before Ashford will reach a better financial outlook. And, incredibly, this is affecting nearly all of Ashford's hotels right now.
AHT Stock Verdict
The economic recovery simply hasn't been good enough to pull Ashford's hotels out of distress. And, judging by the slow recovery in business travel – in particular – any potential comeback may take years. Airbnb (NYSE:ABNB) and other disruptive leisure destination operations also continue to pick away at the tourist side of Ashford's business.
The company's much-lauded cash position is indeed enough to give it some strategic options. Ashford is unlikely to go bust in the near future.
But there's a big difference between merely surviving, as Ashford probably will, and making investors whole at the current valuation. The company's negative tangible book value is a particularly cautionary sign as far as that goes.
There's a group of travel stocks which simply have too much debt and dilution to make it back to pre-Covid 19 levels. AHT stock falls into that category, and investors holding on for a full recovery are bound to be disappointed.
On the date of publication, Ian Bezek did not have (either directly or indirectly) any positions in the securities mentioned in this article. The opinions expressed in this article are those of the writer, subject to the InvestorPlace.com Publishing Guidelines.
Ian Bezek has written more than 1,000 articles for InvestorPlace.com and Seeking Alpha. He also worked as a Junior Analyst for Kerrisdale Capital, a $300 million New York City-based hedge fund. You can reach him on Twitter at @irbezek.