tags:
Arch Resources (ARCH Quick QuoteARCH ) announced that the Leer South longwall mine in Barbour County, WV has started commercial production. The longwall mine is expected to produce up to 4 million tons per year of premium-quality, High-Vol A metallurgical coal for global steel markets.
As of second quarter-end, Arch Resources invested $392 million since the launch of the Leer South longwall program in February 2019. Finally, around $400 million was invested to develop the longwall mine, which was a tad higher than the expected expenditure between $360 million and $390 million. The mine was expected to start commercial production at nearly the same time as being operational.
How This Mine Assists Arch Resources
The development of high-quality low-cost met coal mine will allow Arch Resources to strengthen its existing position in the global met coal market and meet the expected rise in demand for met coal from the global steel industry.
Arch Resources expects coking coal sales volume in the range of 7.4-8.2 million tons in 2021. The company expects Leer South to make a sizeable contribution to total production volumes in fourth-quarter 2021 and ramp to full production mode by the start of 2022.
Global Steel Production Drives Demand
The World Steel Association's Short Range Outlook for 2021 and 2022 indicates an increase in global steel demand. World Steel Association forecasts that steel demand will grow 5.8% in 2021 to reach 1,874.0 million tons (Mt), after declining 0.2% in 2020. In 2022, steel demand will see further growth of 2.7% to reach 1,924.6 Mt.
Met coal is essential for the production of steel and the expected increase in steel production is going to boost the prospects of met coal producers like Arch Resources, Ramaco Resources (METC Quick QuoteMETC ) , Warrior Met Coal (HCC Quick QuoteHCC ) and SunCoke Energy, Inc. (SXC Quick QuoteSXC ) , among others.
Price Performance
Shares of the company have gained 110.2% in the past 12 months, outperforming the industry's 82.8% rally.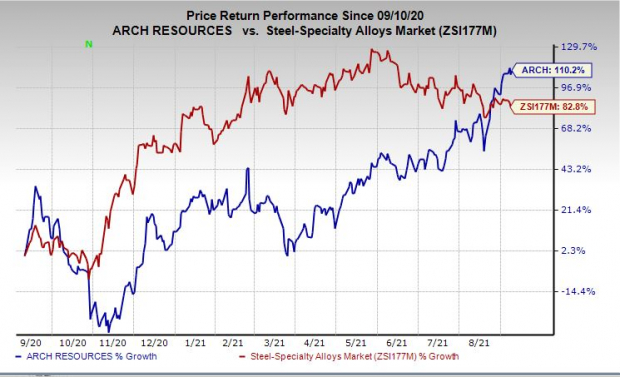 Image Source: Zacks Investment Research
Zacks Rank
Arch Resources currently sports a Zacks Rank #1 (Strong Buy). You can see the complete list of today's Zacks #1 Rank stocks here.