tags:
Shares of ABM Industries Incorporated (ABM Quick QuoteABM ) have gained 22.2% so far this past year against 1.6% decline of the industry it belongs to.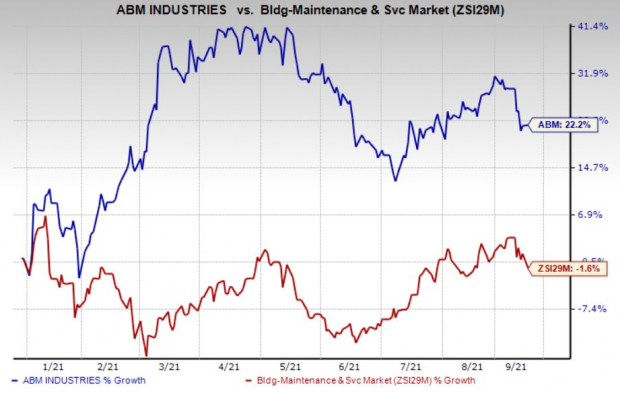 Image Source: Zacks Investment Research
Let's delve into factors that have contributed to the company's outperformance:
Consecutive Earnings Beat
ABM Industries came up with better-than-expected earnings performance in the past three quarters. The company's bottom line continued to benefit from higher margin improvement in Work Orders and persistent management of direct labor to align with the operating environment. Continuous operational investments in the company's EnhancedClean program and re-engaged corporate projects within certain areas like information technology (which were previously paused due to the pandemic) have also been aiding the bottom line.
Fiscal 2021 Guidance
For fiscal 2021, ABM Industries raised its guidance for adjusted income from continuing operations to the range of $3.45-$3.55 per share from the prior guidance of $3.30-$3.50. The Zacks Consensus Estimate of $3.42 falls below the updated guidance.
Shareholder-Friendly Moves
ABM Industries paid out dividends of $49.3 million in fiscal 2020 and $47.7 million in fiscal 2019. The company also returned $5.1 million through share buybacks in fiscal 2020. Such shareholder-friendly moves indicate the company's commitment to create value for shareholders and also underline its confidence in its business. These initiatives not only instill investors' confidence, but also positively impact the company's earnings per share.
Strategic Acquisitions Bode Well
ABM Industries' strategy entails growth through strategic acquisitions while maintaining desirable profit margins. The acquisition of GCA Services Group has expanded the company's long-term operational and financial positions. The GCA integration has been completed and is making meaningful contributions to ABM Industries' overall operational results, predominantly within the Technology & Manufacturing, Business & Industry, and Education segments. Recently, ABM Industries inked a deal to acquire a facilities services company, Able Services, for $830 million in cash. Subject to approval under the Hart-Scott-Rodino Antitrust Act and other closing conditions, it is expected that the deal will be completed by September end. The latest deal is expected to boost ABM Industries' adjusted earnings per share, along with its engineering and technical services' revenues.
Zacks Rank and Stocks to Consider
ABM Industries currently carries a Zacks Rank #3 (Hold). You can see the complete list of today's Zacks #1 Rank (Strong Buy) Rank stocks here.
Some better-ranked stocks in the broader Zacks Business Services sector are Equifax (EFX Quick QuoteEFX ) , BGSF Inc. (BGSF Quick QuoteBGSF ) and Avis Budget (CAR Quick QuoteCAR ) , each carrying a Zacks Rank #2 (Buy).
The long-term expected EPS (three to five years) growth rate for Equifax, BGSF and Avis Budget is pegged at 15.2%, 20% and 57.2%, respectively.