tags:
Nobody would advise you to get into tech stocks with a recession around the corner. After all, tech stock valuations usually include a growth premium, which makes them risky in a recession. It's far better to choose your value and settle down for the long term.
But what if I told you that that story has already played itself out? The tech sector is currently valued at 18.13X P/E, which is a discount to its five-year median value. Therefore, tech valuations are no longer that rich, and you can pick your value stocks among these growth names.
On the other hand, during a protracted downturn, or a recession even, technology is an area of investment for most companies because that's what makes them more efficient and able to generate more from limited resources. This positions technology stocks to benefit from a recovering market.
Today, most sectors are struggling with labor costs and delaying layoffs because it has suddenly become a very competitive market. It wouldn't do to have to hire back at higher rates. Additionally, although supply chain issues are beginning to get ironed out, high energy prices are seeing to it that input costs remain elevated.
So, companies are under a lot of pressure to run efficiently and fiscal discipline is the need of the hour. The ongoing earnings season will give us a better idea of how exactly they're faring, but we are still on the wrong side of a recession, however fleeting it might turn out to be. And that's not such a great thing.
Tech valuations being low, however, provide us a great opportunity to load up. And even if they head further south in the next few months, they are sure to head back up. So anybody with a 2-3 year investment horizon should be able to make good profits. Then again, you may want to hold back for prices to fall further. And that might work out fine too because considering the Fed's current disposition, more volatility in the markets is definitely in the cards.
But in case you'd like to put something into play today, here are a few stocks that may be worth considering:
Perion Network Ltd. (PERI Quick QuotePERI )
The company provides digital advertising solutions to brands, agencies, and publishers, mainly in North America and Europe.
In the last five years, its earnings have grown 12.0% and analysts estimate its long-term growth at 25.0%. In 2022 and 2023 alone, Perion is expected to grow its revenues a respective 32.0% and 16.1% and earnings a respective 96.1% and 4.0%.
Its balance sheet is also in good shape. Since 2017, it has steadily lowered its debt to a nil balance and its per share net cash has also risen steadily since then. Its current cash and cash equivalents can cover its current liabilities (cash ratio) 1.7X over. Therefore, it is strong from a liquidity standpoint to deal with short term uncertainties.
At 11.99X P/E, the shares trade at a discount to their median value of 13.66X in the last five years.
It also has a Zacks #2 (Buy) rank.
Keysight Technologies, Inc. (KEYS Quick QuoteKEYS )
The company provides electronic design and test solutions to commercial communications, networking, aerospace, defense and government, automotive, energy, semiconductor, electronic, and education industries in the Americas, Europe and the Asia Pacific.
Keysight has grown its earnings a whopping 25.9% in the last five years. In 2022, its revenue and earnings are expected to grow a respective 8.8% and 20.1%. Next year, they'll grow 5.5% and 7.9%, respectively. Analysts peg their long-term earnings growth estimate at 11.0%, which factors in significant slowdown (possible a recession next year). So the LTG could actually turn out to be much higher, as is usually the case.
The balance sheet is also in good shape. The debt cap ratio of 31.4% is not too bad at all and has been declining steadily from 2017. The net cash per share increased steadily till mid 2021 but shows a slightly declining trend since then, possible as it built some inventory. Its cash ratio, at 1.77X shows there is nothing to be concerned about however.
The P/E of 20.48X may not be viewed as cheap by some, but rest assured that it isn't expensive because it is at a discount to the median value of 21.53X in the last five years.
The shares carry a Zacks #1 (Strong Buy) Rank.
Arista Networks, Inc. (ANET Quick QuoteANET )
The company develops, markets and sells cloud networking solutions in the Americas, Europe, the Middle East, Africa and the Asia-Pacific.
In the last five years, Arista's earnings have grown 17.2% and this strength is expected to continue in the future as well. For 2022, analysts currently expect revenue to grow 38.6% and earnings 40.8%. The following year, they expect revenue growth of 13.9% and earnings growth of 13.1%. In the long term, earnings growth is expected to settle at 15.7%.
Like Perion, Arista has no debt on its balance sheet. Its net cash per share has been growing pretty steadily since 2016 although it dipped in the last quarter even as net PP&E and inventory continued to increase. The cash ratio is 3.29X.
Its P/E of 25.55X is well below the five-year median value of 33.51X, signaling that this is as good a time as any to get into this stock.
The shares carry a Zacks Rank #2.
Agilent Technologies, Inc. (A Quick QuoteA )
Agilent provides application focused solutions for measurement and analysis of liquids and gases in the life sciences, diagnostics and applied chemical markets worldwide.
In the last five years, its earnings have grown 15.4%. Analysts currently expect its revenue and earnings to grow 7.1% and 16.8%, respectively in 2022. Next year, they're expected to grow a respective 6.5% and 7.9%. The long-term growth expectation is 10.0%.
As far as the balance sheet is concerned, the debt cap of 34.9% is very manageable and cash ratio of 1.05 is adequate.
Like the others, Agilent's shares are trading at a discount to its five-year median, meaning that they are cheap.
And finally, they carry a Zacks #2 (Buy) rank.
Conclusion
It's time we at least started studying the tech sector for possible picks over the next few months. As seen above, many of them are already undervalued, possibly pricing in the effect of a recession.
One-Month Price Performance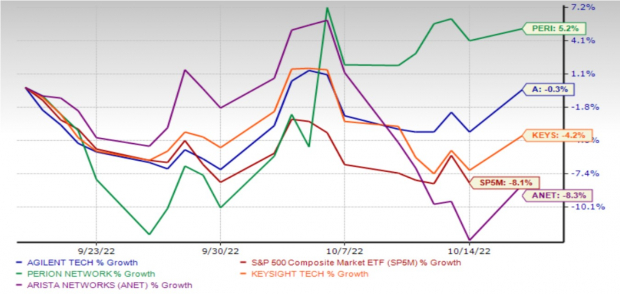 Image Source: Zacks Investment Research